I have a therapist. Let me tell you how I met her…
I live in a civilization that can sometimes be harsh and ferocious. We all do. The noise, insensitivity, pollution, crime, greed can be breath choking. I`m awed by all the luxuries and advancements the civilization has to offer. So much so that I am blinded by it all and easily fall prey to it. I revel in its beauty, temporarily. And then I see the first layer peel off. What lies beneath does not seem promising. Nor does it continue to give me solace. My eyes are now wide open to the darker side, the side to which I turned my blind eye to. Now I seek to escape. I look around for a sign of escape. But I can`t seem to find any.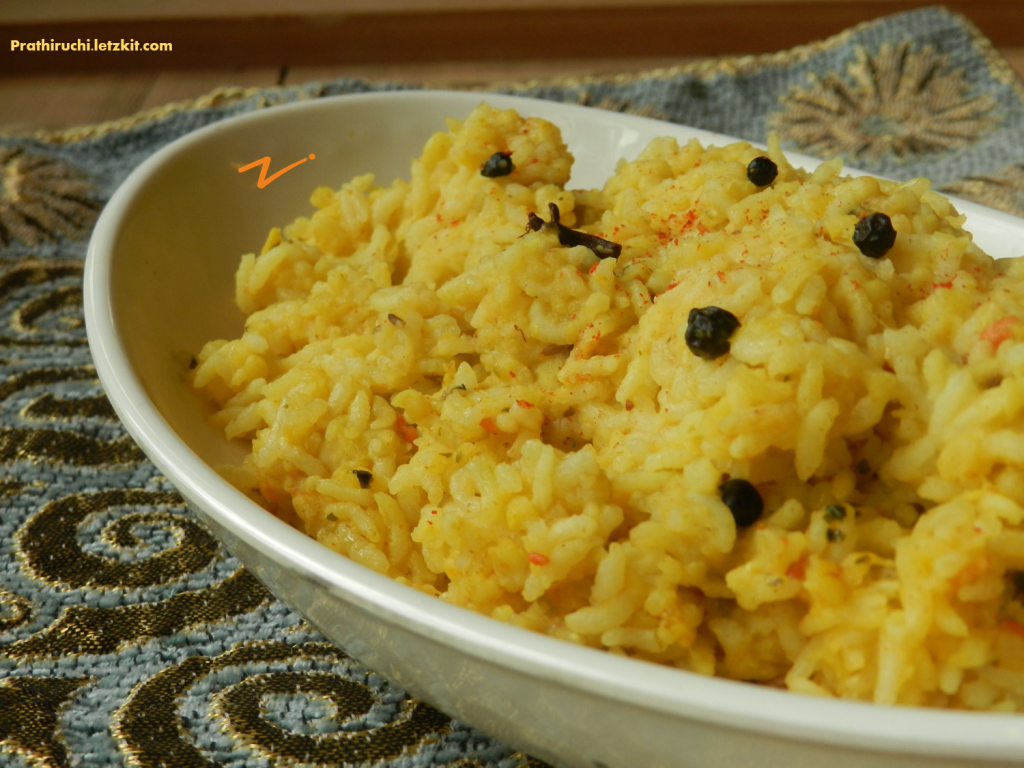 Like a fish caught in the fisherman`s net I struggle to break free. I swim relentlessly. I look up for concern. But I see only greed in the "fisherman`s" eyes. My eyes dart all round me looking for a rescue team. Modern world has a back up and 'help' option for anything and everything. So there must be one for me to break free from the 'corrupt' situation I am in, to erase it and bring back the light, the promises, the calmness, to bring back my sanity…
I open up all my senses so as to hear, see, feel, sense any sign of solace. And then I hear her, very faintly and from a distance. My mind opens up and becomes alert to her voice. Her voice is soothing, melodious, tranquil and instantly puts me at ease. The tension is slowly easing away. Her rhythm is hypnotic. I feel her closer to me now and soon she is beside me. Her presence is ethereal. I get the strength to break free from the net all round me. The greedy fisherman is shocked and taken aback. I smile at him. I have won the battle. And I owe it to my rescuer. Who is now my therapist. Her name is 'music'.
I frequently seek the warmth of her harmonious beats. When the urban life chokes me I run to her to escape the madness. And instantly I am comforted. I gain back my confidence. I am transported into a timeless abyss.
The civilization will continue to be ruthless but yet it is compassionate. It will continue to be filled with greedy people who try to bring you down, trap you within evil forces. But it will also be liberal. If only we open our senses to see the light and shun away the darkness disguised in a "promising" pack!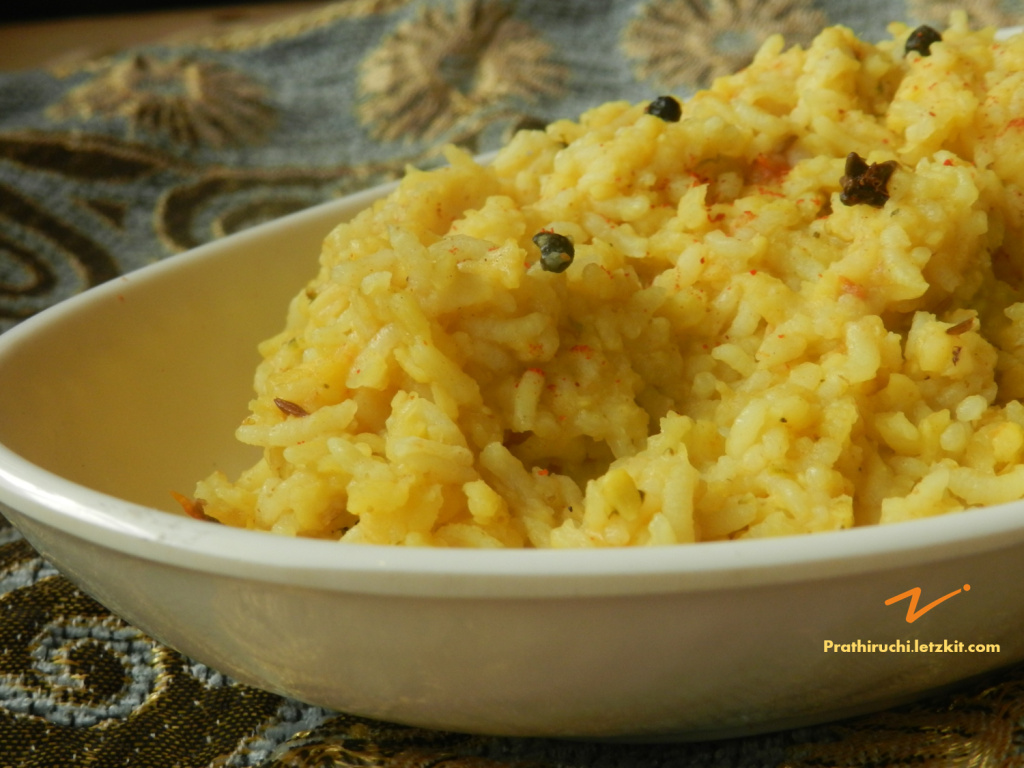 Music is food for the soul. It can rescue the confused mind. How the mind seeks music to console, so does our body. A comforting, healthy, home cooked food can be a therapist too! Rejuvenate you and nourish your body, mind and soul. And for me the humble "kichdi" falls into this category. The dish is rustic and simple. Yet so meditative and infused with all the goodness to make it a 'complete meal'.
After a long and tiring day, I love to have a bowlful of piping hit "kichdi", topped with soothing curd and lip smacking pickle. The music plays in the background, my therapist doing her job of course. She is now my frequent companion. Whenever I feel I am losing my confidence or to give me a environment to think novel ideas, as a friend when I am alone or to put me to sleep, she is always there. Coming back to my dinner, I feast of bowlful of fresh moong dal ki kichdi with 'music'. Very soon I am surrounded by serenity…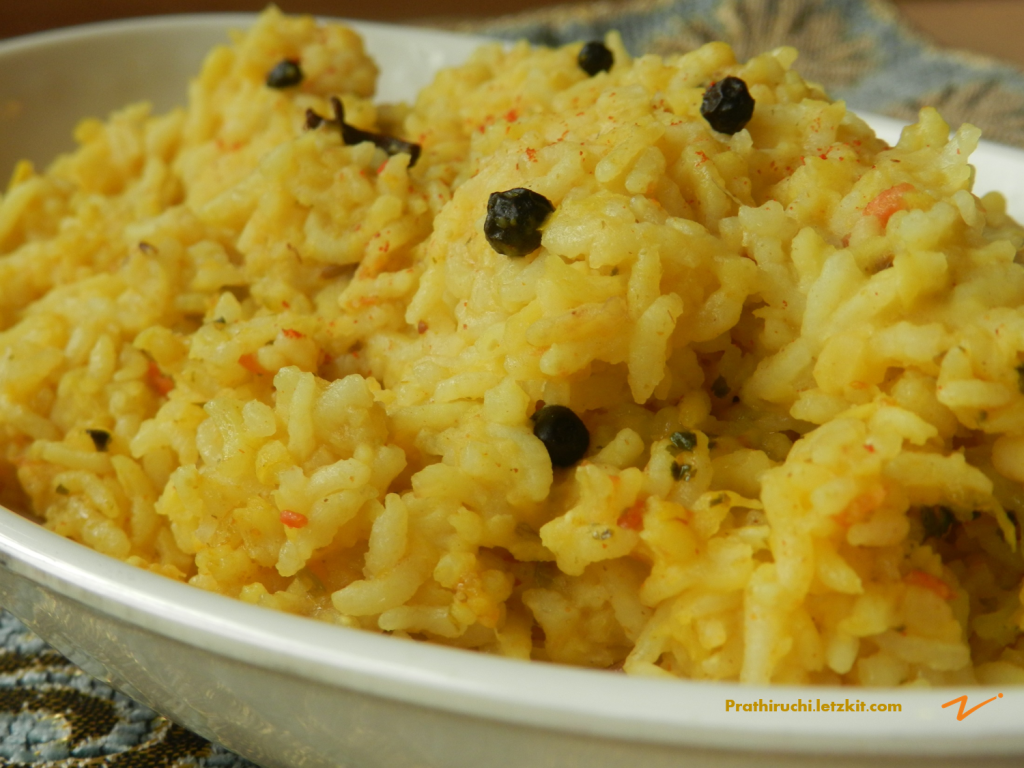 Moong dal ki Kichdi
A quick and healthy dinner option!
Serves 2 to 3
1/2 cup rice (sona masoori or basmati)
1/2 cup moong dal
For tempering
1 tbsp ghee
1/2 " cinnamon (dalchini)
2 cardamoms (elaichi)
2-3 cloves laung
1 tsp whole peppercorns
1/2 tsp cumin (jeera seeds)
1/4 tsp hing (asafoetida)
To grind coarsely
1 small size tomato
1 green chilli
1/2 " ginger
3 tbsp coriander leaves with tender stems (cilantro)
For powdered spices
1 tsp coriander (dhania powder)
1/4 tsp cumin (jeera powder)
1/4 tsp turmeric (haldi powder)
1/2 tsp red chilli powder
1/4 tsp garam masala powder
To serve
Wash rice and dal well. Drain.
Pulse together ingredients under 'to grind' to a coarse paste without adding water.
In a pressure pan, heat ghee. Add the ingredients under 'for tempering' and let sizzle.
Add in all the powdered spices and saute for 2 to 3 seconds only.
Add the coarse ground mixture. Saute for 1/2 minute.
Add rice, moong. Mix.
Add 2.5 to 3 cups water, salt.
Keep the lid and pressure cook for up to 3 whistles.
Serve piping hot with curd and pickle.
If you want a moist consistency kichdi, add 3 cups water. Else 2.5 cups is sufficient.