It was a pleasant day with the gentle breeze lightly caressing the leaves. The sun seemed to be generous in spreading golden hue all around. That perfect setting when I could not help but let my mind wander to the fields in my native place.When home grown, organic vegetables seem to be one of the most talked about topic at present, we are blessed to get our little share and taste them first hand! The fields in my native place are cultivated with variety of local vegetables like brinjal, tendli, amaranth, pumpkin and so on apart from the standard rice that is also cultivated.The colors of these vegetables are so vibrant, so fresh to touch and smell. And I said it is organic , right? So need I say more on its taste? For the taste of dishes made using these vegetables from our farm house is so exquisite!
Not that the dishes made are 'gourmet' style, but just a simple sambhar or dal or poriyal. In just one bite you know there is something very different about the dish than those made from regular store bought ingredients. The vibrant color is what first catches your attention as you glance at the dish. And then on taking a spoonful of it the, true flavor of the vegetable is what hits you next. Its so rustic, so magical! The taste is soul filling. And then you simply go on with eating and relishing this simple home cooked meal along with
organic
rice from the same field and wished the meal never ended, until your break time is up of course! And then again you look forward to when you can once again taste this
simple
special menu!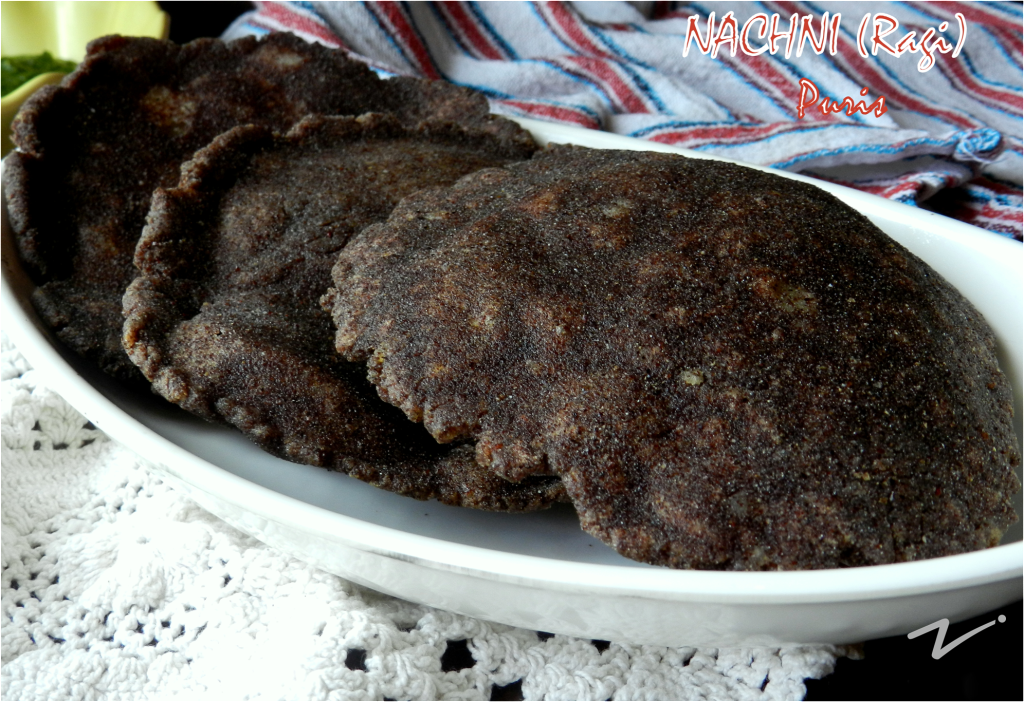 At the background I hear a sizzle of oil and know that my mom is getting ready to fry

puris

. Not your regular puris mind you. These are made from

finger millet flour

(also known as

african millet

);

nachani

in Hindi & Marathi;

ragi

in Kannada & Telugu;

aariyam

in Tamil;

panjapulle

in Malyalam.

Ragi

is an annual plant widely grown in arid areas of

Africa

and

Asia

. Once harvested, the seeds keep extremely well and are seldom attacked by moulds and insects.In India, ragi flour is mostly grown in

Karnataka

,

Tamil Nadu, Maharahtra, Goa, Rajasthan, Andhra Pradesh

. In Maharashtra, they are used to make

bhakris

(a kind of flat bread) and eaten with green chillies and onion along side. In Karnataka they are more commonly eaten in Northern parts by preparing a dish called

ragi mudde

– where ragi flour is cooked in boiling water and then made into balls and relished with rasam made from green leafy vegetables.This way of eating ragi in form of balls/ mudde is also popular in Andhra Pradesh with some green chillies, onion and sambhar. They are had for breakfast by farmers to to help them sustain throughout the day working in fields. Ragi flour is also commonly used in making

porridge

and

malts

. While rice is the main crop grown in the

agrarian state, Karnataka

, ragi, jowar etc are mostly grown in Northern areas.Finger millet is rich in calcium, iron and fiber. They contain anti oxidants and are

gluten free

.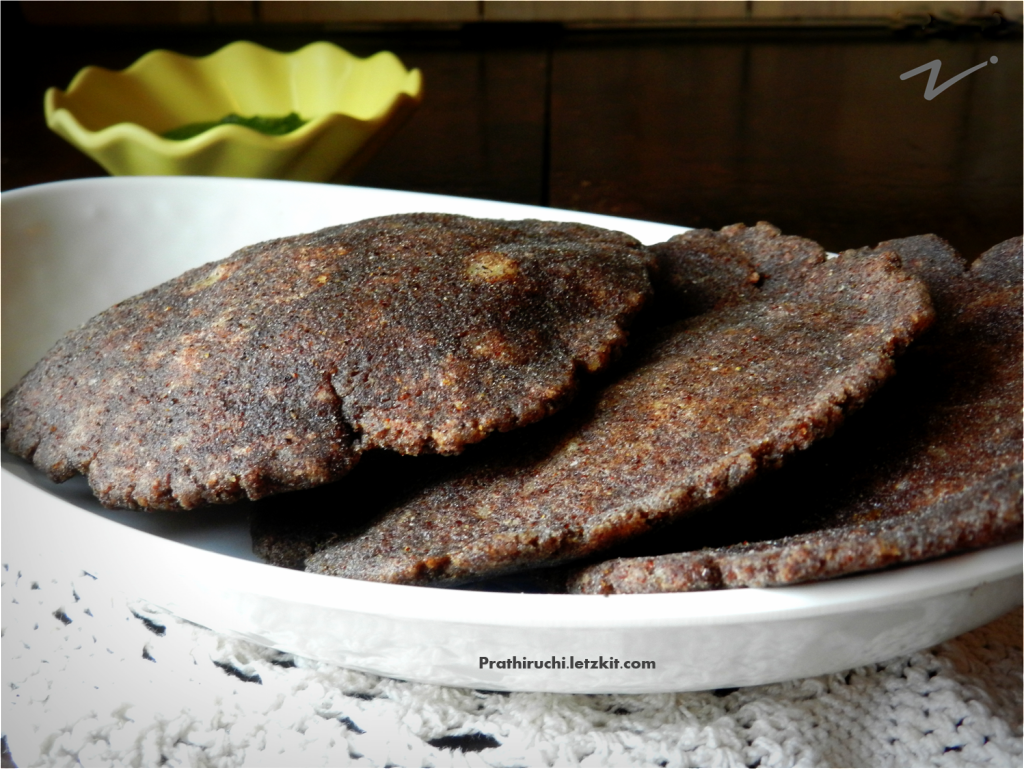 This is a recipe which amma and I had seen Chef Harpal Singh make this on T.V. On seeing it made, we instantly knew what our next day's menu would be! Though we expected to puris to be not so soft on eating in comparison with regular puris, we were pleasantly surprised on tasting them. For they turned out to be even softer!
Relishing hot ragi puris with spicy green chutney made for an extremely satisfying meal.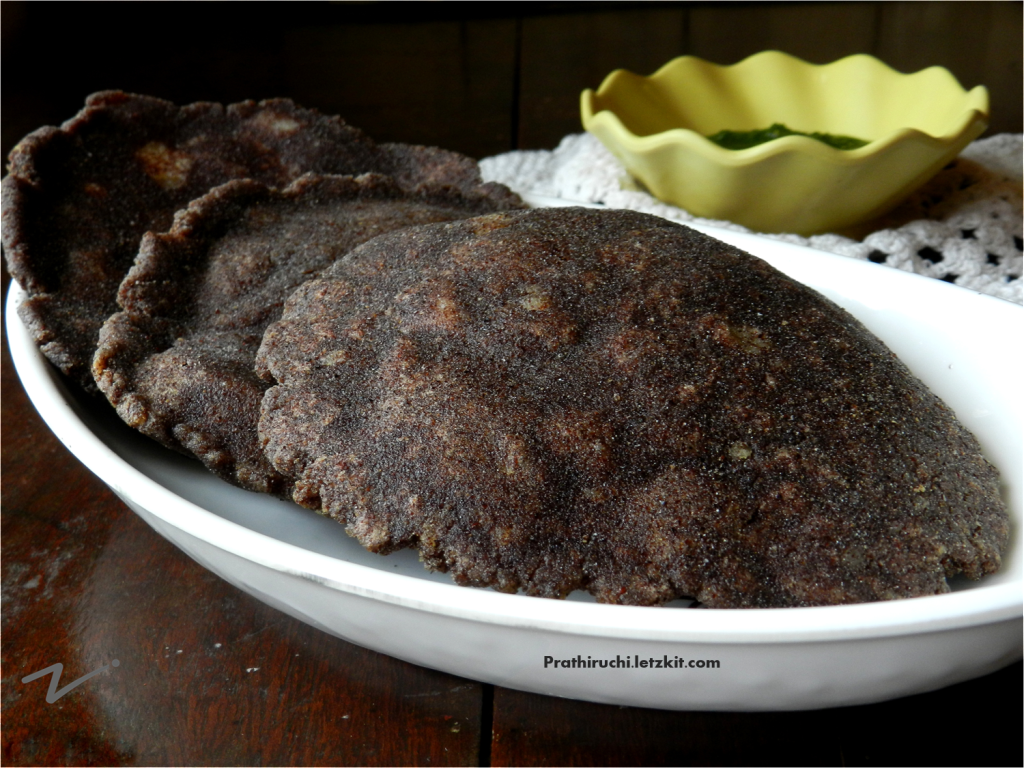 Ragi Puris
Soft puris made from finger millet flour
Nachni atta (ragi flour/ finger millet flour – 2 cups + for dusting)
Potato – 1 medium
Hing (asafoetida – ½ tsp)
Red chilli powder – 1 tsp or per taste
Chaat masala – 1 tsp
Salt – as per taste
Warm water – as needed
Refined oil – to deep fry
To serve
Spicy green chutney or spicy red chilli chutney
Boil, peel and mash potato. In a mixing bowl put mashed potato, ragi flour, hing, chilli powder, chaat masala, salt. Mix well once.
Add required warm water and knead to a soft dough. Do not keep the dough aside for long as it tends to dry.
Heat oil in a kadai/ wok to deep fry.
Divide dough into equal portions and shape into balls. Roll out gently into small puris by dusting with more flour as needed.
Slide the puris, one at a time, into hot oil gently and fry till golden. Drain on absorbent paper.
Serve hot with any spicy chutney.
Fry one puri at a time. As it fries, press the puris gently with slotted spoon to puff them a bit, like you do for regular puris.
The dough can be very soft & so handle gently as you roll out & immerse into oil. You can keep rolled out puris in the ladle & then immerse into hot oil to avoid puris from breaking.
Adapted from Chef Harpal S