Life is a rush hour these days. A hectic schedule is the norm for many. You see people are always in a rush to be at some place at a certain time, meeting deadlines and so on. Relaxation, health, family, hobbies etc take a backseat. Most of us want things 'instant', ready at the snap of their fingers. And do we have endless gadgets to meet this criteria!! And then we even have instant commercial food. And yet…where has the time gone?? We should have had far more time on our hands then…don`t you think?It is like we are all on a 'bus' here with no stops!! Or on a treadmill and can't get off!! Reminds me of Sandra Bullock`s movie Speed. And what a relief it was then to get off the bus and appreciate life all over again..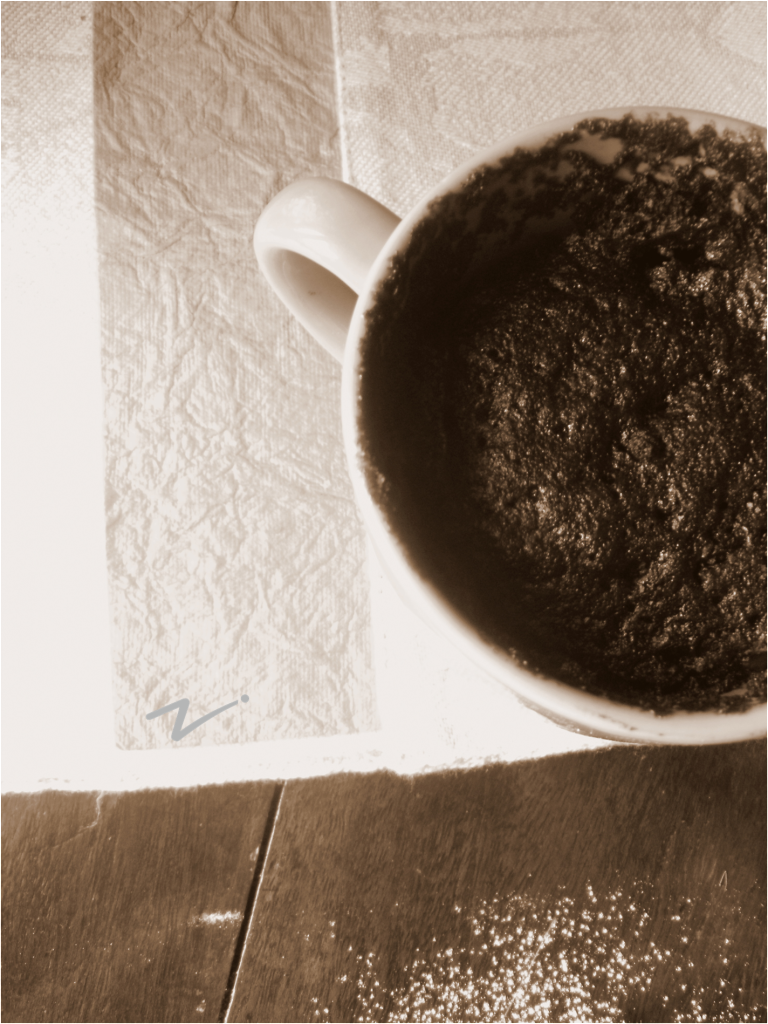 Do take a moment to pause, to look around you and enjoy simple pleasures in life –
the sunrise, birds chirping, relax & laughter with family and friends. Feel the wind in your face, listen to the ocean, meditate or whatever relaxes your mind and calms the senses.
Take regular breaks between work, eat healthy, exercise regularly. Take care not to be caught up in the whirlwind that we forget savor and appreciate the present.And as you go about your busy life, remember to try out this instant chocolate cake during your breaks!! Takes just about 5 mins to mix and cook..!! This cake meets the criteria for something sweet, moist, chocolate-y ready in a jiffy.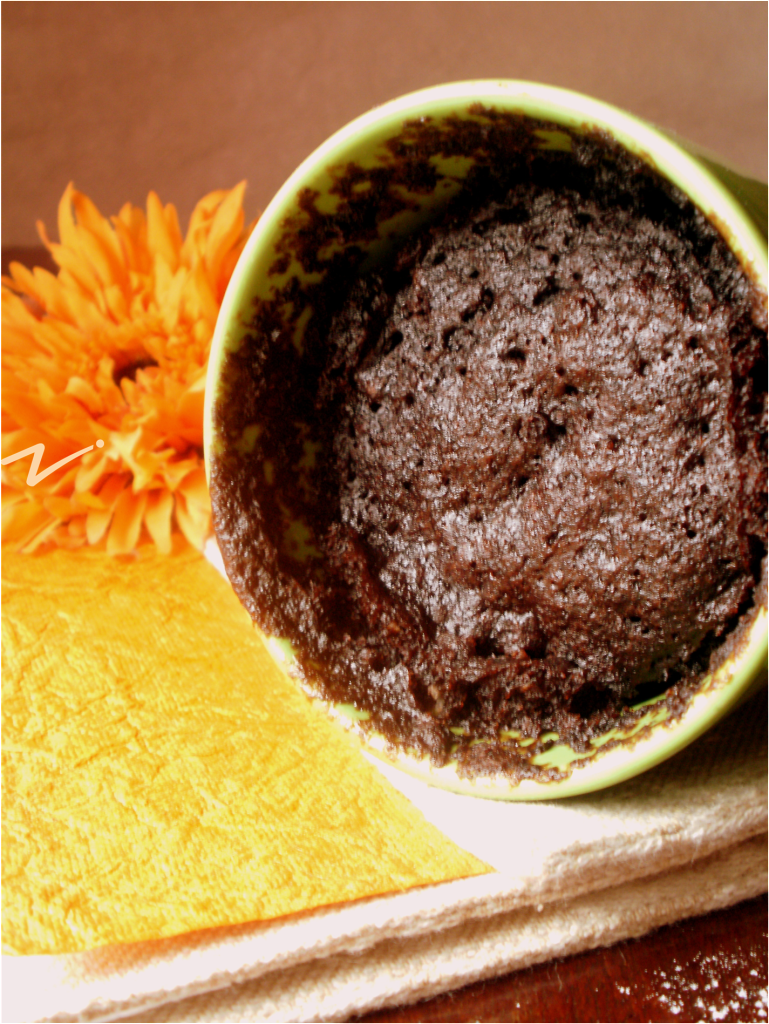 I know I am going to be making this more often. And whats more..I can even make this at midnight to satisfy my cravings for a chocolate cake…which will be quite often from now on..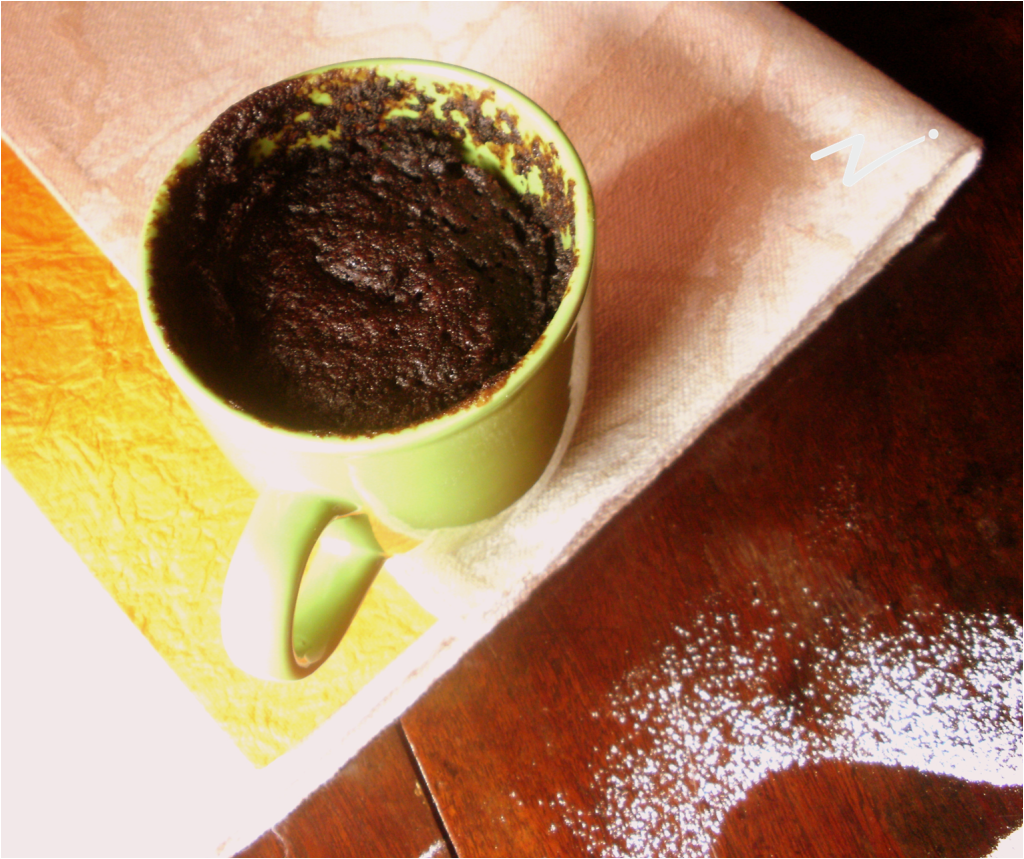 Instant Eggless Chocolate Cake
5 minute microwave cake!
Dry ingredients
Plain flour (maida – 3 tbsp)
Castor sugar – 3 tbsp
Cocoa powder – 2 tbsp
Baking soda – ¼ tsp
Salt – a pinch
Wet ingredients
Curd – 3 tbsp
Cooking oil (neutral – 3 tbsp)
Vanilla essence – ¼ tsp
Optional ingredients
Chocolate Chip – ½ tbsp
Pecans – 2 tsp (chopped)
You will need
1 Microwave – safe coffee mug or a small Micro safe bowl
Take a micro safe mug/ bowl. Add in all the dry ingredients. Mix once.
Add in all the wet ingredients. Mix well with a small hand whisk so that no lumps remain.
Now add the optional ingredients. Here I did not add the pecans but only the choco chip. Stir once.
Keep the mug in a microwave (with Microwave Mode ON & NOT Convection/ Combi). Micro at maximum power (mine`s 900 W) for 1.5 mins. Take out & check if done. Else keep for another 30 seconds. (Note : I kept at 80% Power for 1.5 mins + 45 seconds)
Your instant chocalate-y delight is ready!
I recommend adding the chocolate chips as the cake by itself is not too sweet but just right. If you want to skip the choco chip than serve the cake with some powdered sugar sprinkled on top.
May even serve with some vanilla ice cream or whipped cream.
The Micro/ cooking time varies depending on the capacity of your microwave.
Do not over cook the cake. It is done even if it a bit fudgy around the edges (unlike a regular cake baked in an oven). The cake will continue to cook as it cools down. So wait for a few mins before you serve!
Make sure that the mug has a 'Microwave – safe' symbol at the bottom. Aluminium, steel, ceramics with gold rim, melamine, fine glassware, crystal ware, ceramics or special plastic ware with metal rim etc are NOT microwave safe.
Fancy ceramics, Special Plastic Microwave containers, Glass ceramics (heat resistant) are microwave safe provided they are so recommended by the manufacturer.
Keep only one mug at a time in the microwave.
For the above recipe, may even add 3 tbsp milk instead of curd. Remaining ingredients are the same.
Make sure the batter covers only half of the mug. The cake will rise well as it cooks but will settle down on cooling.