'Tea Time'has always been a lavish affair in England. The Afternoon Tea is a light meal had between 4 pm late afternoon and may go on till 6 pm. Hot tea is served in delicate tea pots accompanied by light snacks. Sandwiches, cookies, scones, muffins or toast along with a cup of piping hot and freshly brewed tea complete the 'Afternoon Tea'.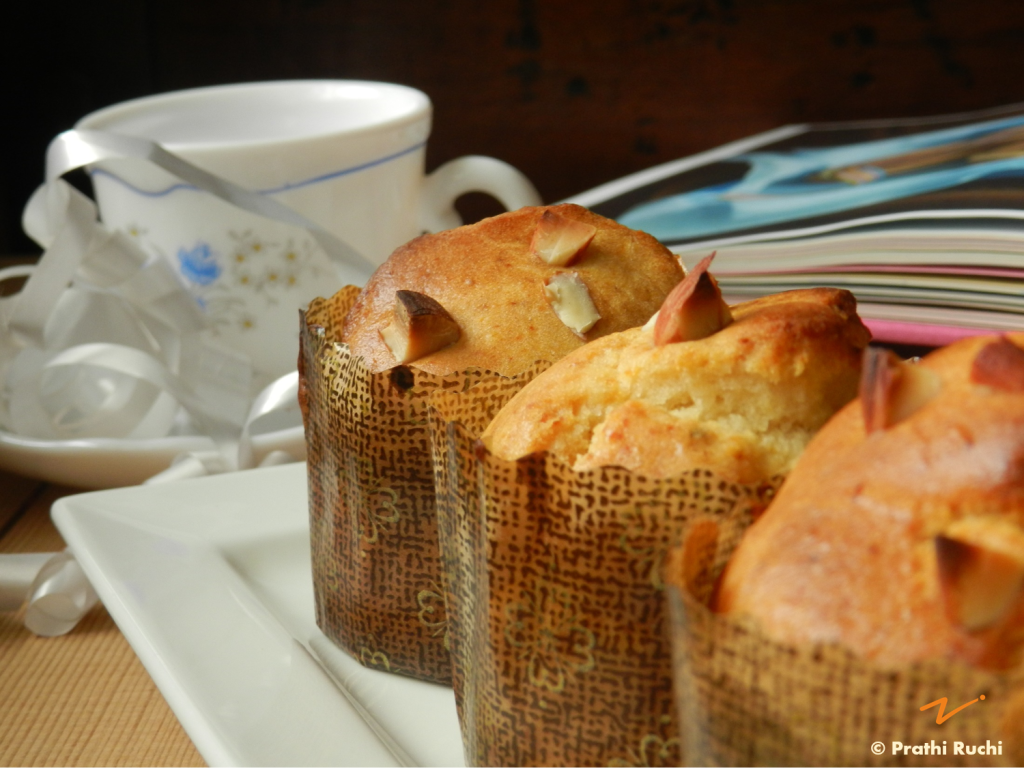 Back in India 'chai' always follows a siesta. I am not fond of a cup of tea but it is the tit bits that accompanies the 'chai' that gets my attention! From garma garam pakoras, bhajias, farsaans to more elaborate samosas, puris are part of the 'light meal' in India. This is a time to take a break from work, sit back with a glass of chai and munch on crispy snacks. It is a time to 'discuss' the day`s events, debate on politics and so on.
I remember my school days when I would eagerly await the time I reached home and Amma served hot snacks with a glass of milk. Back then the evening meal was my most favorite meal of the day. And I must admit it still is. But the only difference is now I do not have the luxury to spare that extra time to chill out and relax under the shade as I watched the sun move towards the west, to make way for the night. Nor watch the birds getting ready to call it a day. The gentle breeze caressing the leaves and petals or the bees and butterflies fluttering away are rare sights. The 'chai' time to me is like visiting the land of countless corridors of peace and tranquility. It is when my frenzied mind is soothed and drives away the insanity!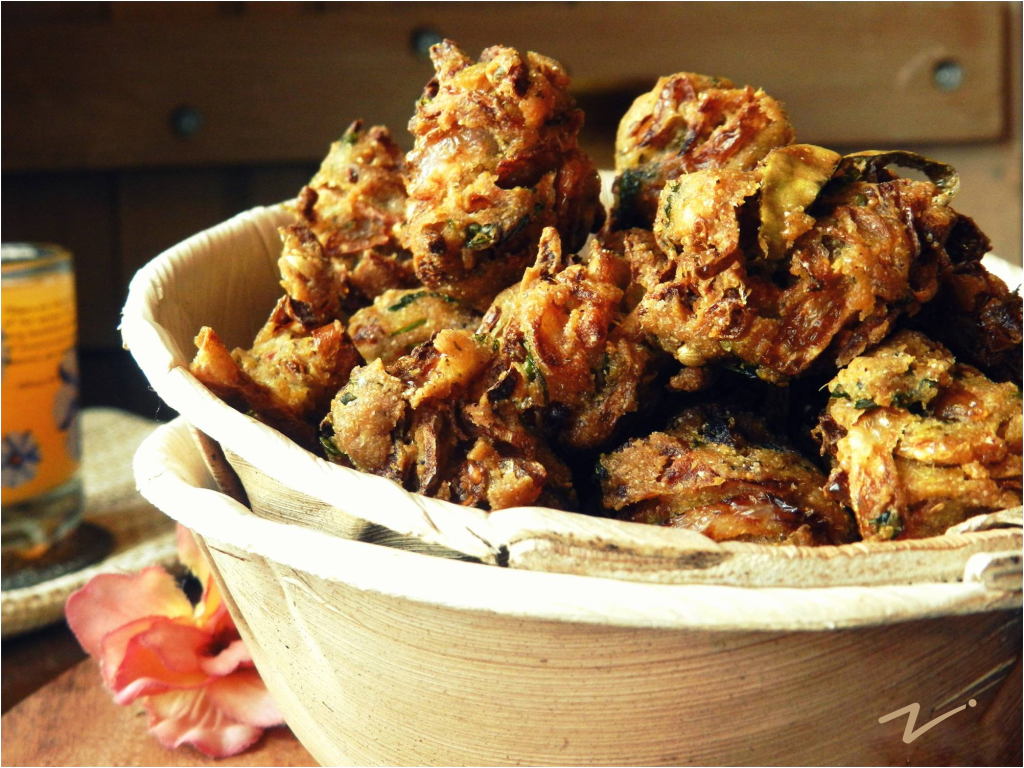 The 'tea' affair promises to drive away the dreadful darkness and the tensions are mitigated. As you munch on crispy hot fritters the strain and stress are driven away into oblivion!
Onion pakoras always get majority votes to satisfy one`s cravings for a crispy snack. They are simply gorgeous with their crisp and goldencrust. But one may think something as sumptuous as onion pakoras would be time consuming to dish. Something as addictive as pakoras would definitely need some efforts. Or may be expensive. On the contrary, they are not! On the contrary they are not! They are to make and dirt cheap! Yet there is something very mystical about them. Magical in their taste, in their capability to create a positive aura around them. They suit a rustic, village style setting to a lavish meal setting. No wonder 'pakoras' are popular all over India!
Here this all time favorite is given a twist by replacing gram flour with pearl/black millet flour, also known as bajra in Hindi. The result is a crunchy, mouthwatering, spicy & and an extremely more-ish snack!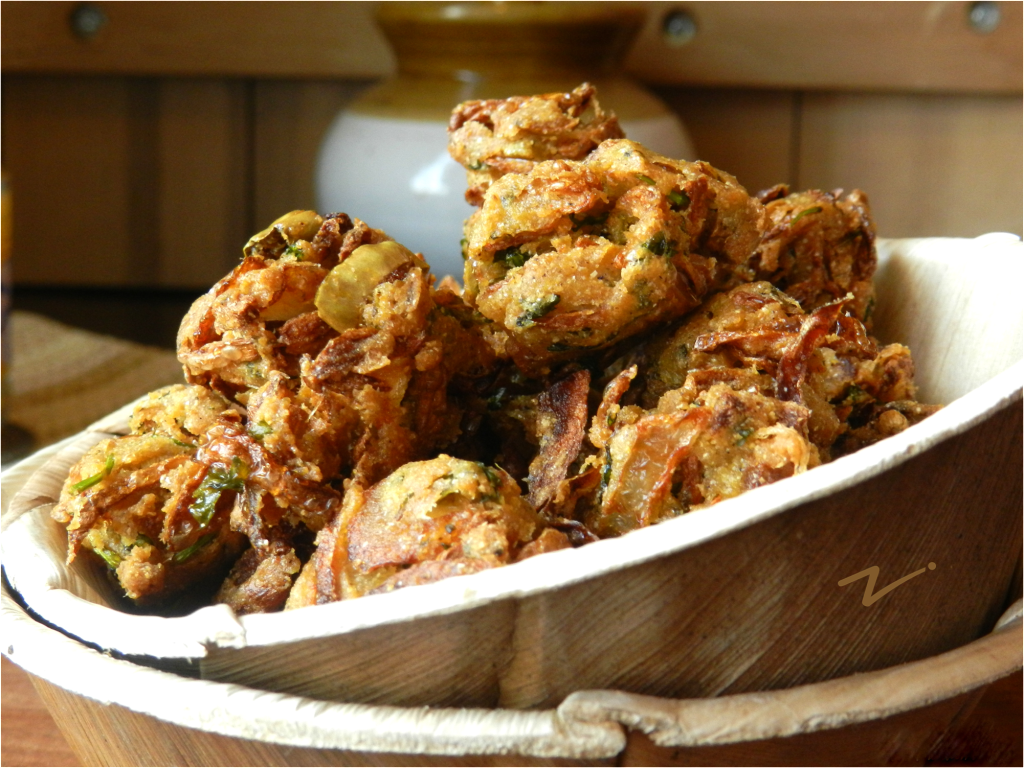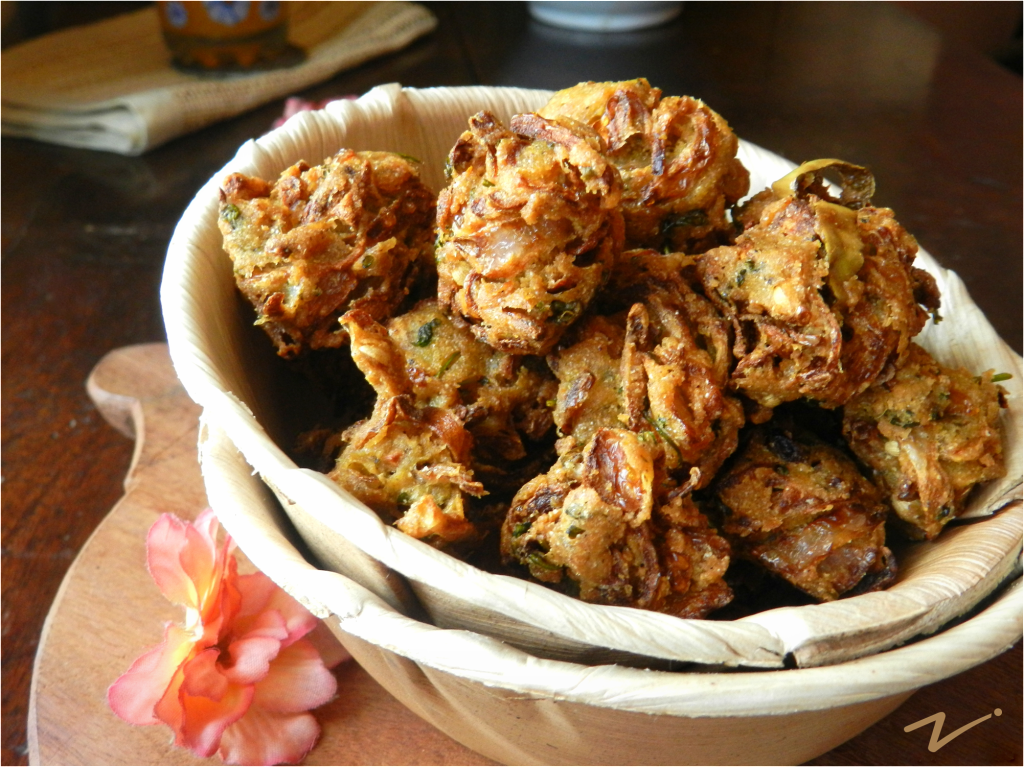 Bajra and Onion Pakoras
Crisp and tempting snack!
Onions – 3 medium
Green chillies – 2
Ginger garlic paste – 1 tsp
Coriander powder – 1 tsp
Fresh spice powder – 1 tsp
Turmeric powder – ½ tsp
Red chilli powder – 1 tsp
Coriander seeds – 2 tsps
Lime juice – 1 tsp
Coriander leaves – ½ cup
Mint leaves – 2 tbsp
Bajra flour (pearl millet – 12 tbsp)
Salt – to taste
For spice powder –
Cumin seeds – ½ tsp
Cloves – 1-2
Peppercorns – ¼ tsp
Vegetable oil – to deep fry
To serve : mint chutney or ketchup
Chop green chillies, coriander leaves and mint leaves. Peel and halve onions. Slice it thin and then halve all the strips roughly, so as to get thin & short strips.
Pound the spice powder ingredients in a mortar & pestle or a coffee grinder to a fine powder.
Put oil to heat in a kadai/wok.
In a bowl put in all the ingredients along with 1 tsp spice powder. Mix well with hands. Sprinkle water if needed and mix to a stiff dough.
Wet palms, take uneven portions of the dough and drop into hot oil. Deep fry over low flame till golden brown. Remove and drain on absorbent paper.
Serve hot.
Bajra flour is black/pearl millet flour. It is called as sajje in kannada, sajjalu in Telugu, Kambu in Tamil.
Onion leaves water as you mix so add water only as needed.