The land of spices and aromas always fascinated me. The natives of the place are considered as 'master chefs'. The region is well known for its architecture and temples too. The 18th century mansions comprise a spacious rooms and courtyards. They are embellished with imported marble, crystals, exquisite mirrors and teak that give it a magnificent look. The temples were built as per vaastu shaastra and by Tamil dynasties like Cholas.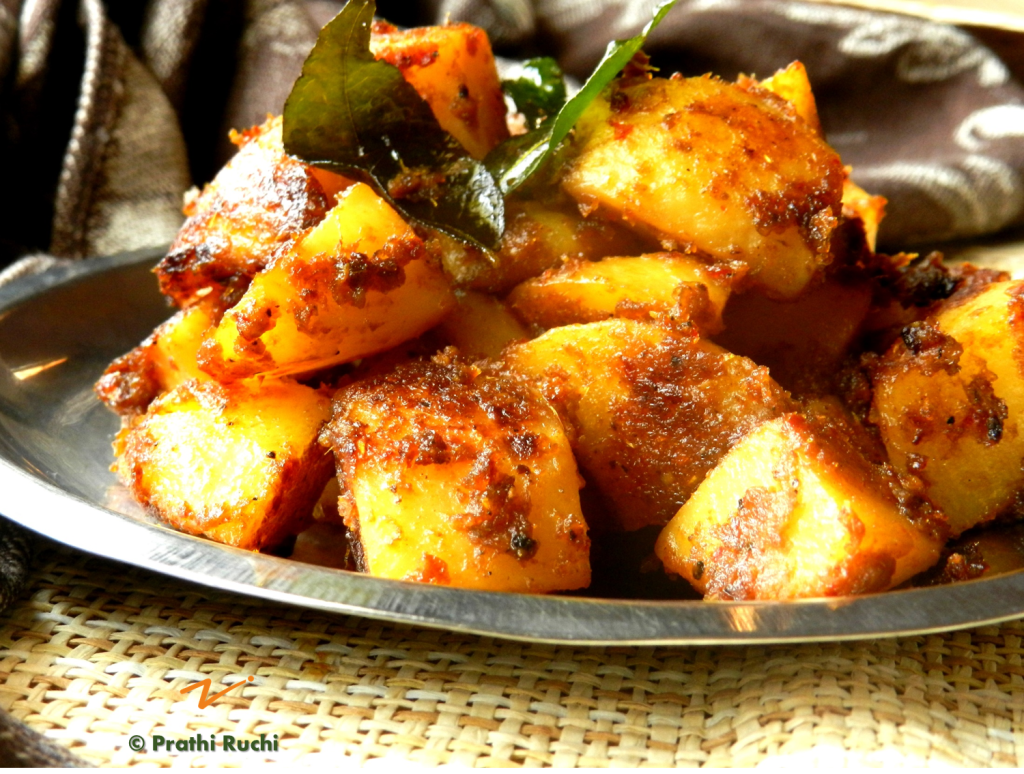 I can`t wait to visit the land of food paradise – Chettinad, a region of Sivaganga district of Tamil Nadu! Traditional, this small community have been traders and bankers by profession. The natives of this plave are known as Chettiars. So much has been told about their mouthwatering and addictive cuisine. With vast varieties of spices that go into making their delicacies, it is no doubt that its 'flavor' is spread far and wide. The rich spices give a magical spin on the dishes that make them so addictive. The cuisine is one of the spiciest in India. Popular dishes of the Chettinad region are kara kulambu (South Indian sambhar), paal paniyaram, vellai paniyaram, kuzhi paniyaram, kozhakattai, seeyam. Gravies and stir fries are generally had with rice or rice based dishes like dosa, appam, idiyappam, adai and idlis.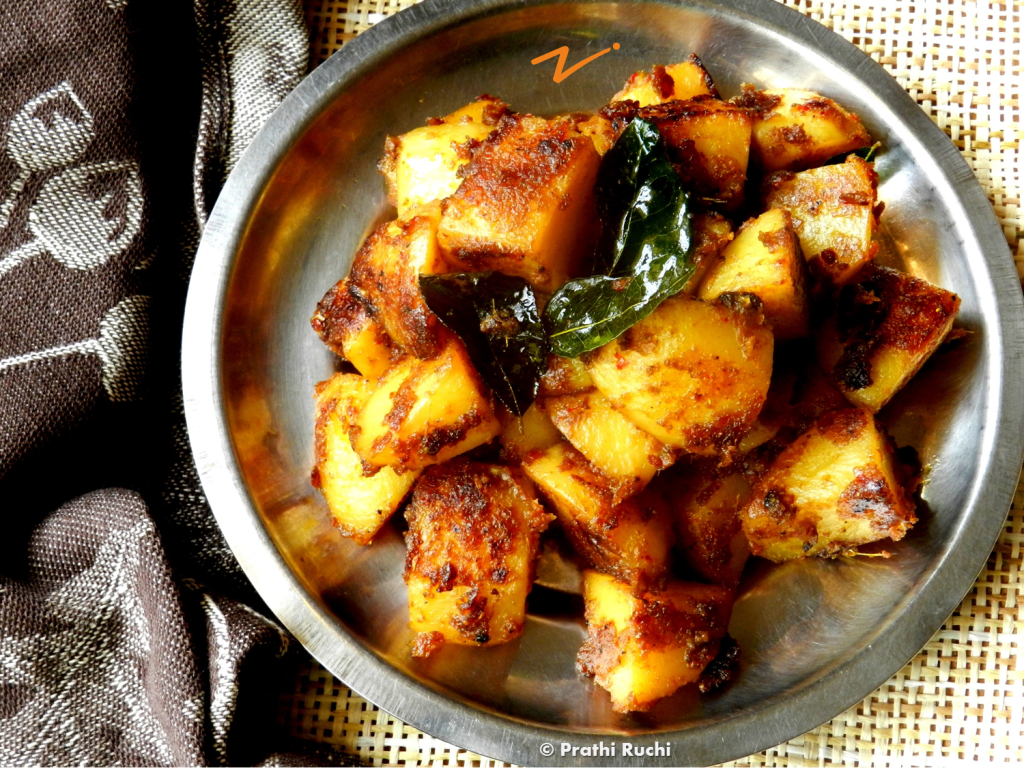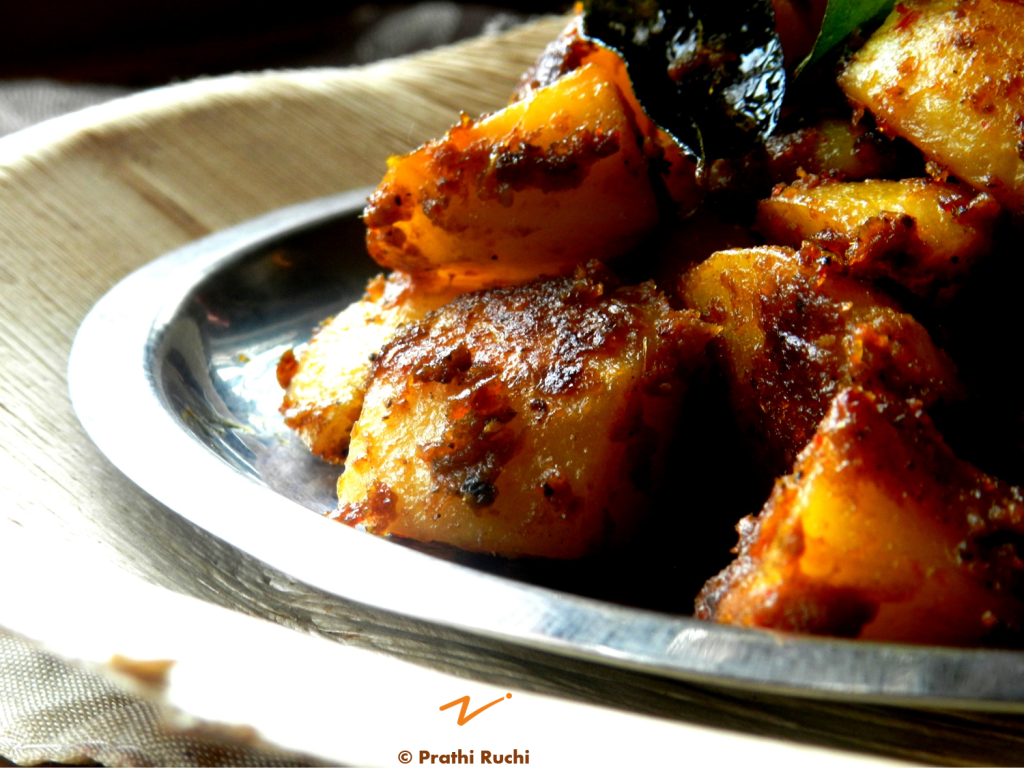 With all the popularity given to the cuisine, I was eager to taste their delicacies. But a visit to the place was no where close to sight. So I had to manage with the existing situation. Why not try one of their specialties on Prathi Ruchi kitchen? I did a bit of browsing to get familiar with the basic of the cuisine – the basic spices and techniques. Spices commonly used are marati moggu (dried flower pods), saunf (fennel), dagad phool (stone flower), cinnamon, cloves and of course red chillies. And lots and lots of chillies! Then there is black pepper. Chettinad cuisine is incomplete without pepper. Tamarind is what gives the sour element to most of their dishes. Lentils are used in plenty. Pickles in brine with fruits and vegetables are again a specialty of this region. The base for all their food is meals need to be healthy but economical at the same time.
Then I picked a dish which tempted me right from its name – Chettinad Urulai. Urulai is nothing but potatoes. Stir fried potatoes coated with aromatic spices. Serve them as a side with rice and sambhar or as a starter too. Either ways they taste finger licking good.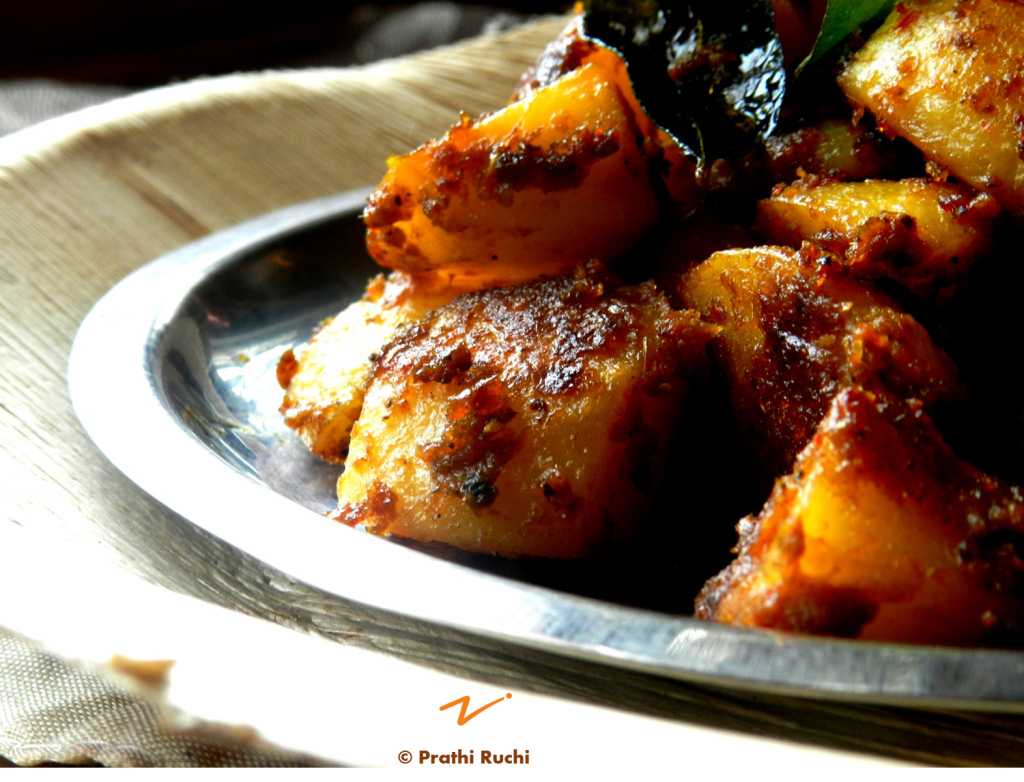 Chettinad Urulai
Mouthwatering recipe from the Chettinad cuisine of Tamil Nadu.
1/2 kg baby potatoes (aloo OR 4 medium sized potatoes)
3 tsp ghee
3 tsp oil
2-4 curry leaves
For masala paste
1 medium onion
1/2 " 3-4 cloves garlic
1 tsp red chilli powder or 2 to 3 whole dry red chillies
1 tsp coriander (dhania powder)
1/2 tsp cumin (jeera powder)
1/2 tsp turmeric (haldi powder)
1 tsp tamarind (imli paste)
salt
1/2 tsp peppercorns
1/2 to 3/4 tsp fennel (saunf seeds)
4 curry leaves
For garnish
fried curry leaves and green chillies
lime wedges
Peel and cube potatoes. If using baby potatoes, peel and halve them. Prick with fork. Immerse them in water to avoid discolouration. Drain before adding the paste.
Grind together ingredients under 'masala paste' to a thick paste, adding little water only if needed.
In a mixing bowl put the masala paste, potatoes (drained), 1 tsp oil. Mix and let marinate for 1 to 2 hours or even overnight.
In a pressure pan put the marinated potato mixture, little water (about 1/4 cup). Pressure cook upto 2 whistles or till cooked but still firm.
In a wide pan put ghee, curry leaves, contents of the cooker. Cook over low flame till evenly roasted. In between shake pan gently to stir but not to break the potatoes.
Serve as a side dish with rice meals or as a starter.
You can substitute tamarind with 2 tbsp curd (slightly sour).
If you do not have much time to marinate, you can marinate for upto 15 mins too.
Adjust chilli powder/ dry red chilli as per spice level desired.