Think Italy and you are your mind is instantly flooded with images of well dressed Italians, the Collosseum, the gondola and of course great food! Pastas and pizzas topped with layers of melting cheese, fresh out of the oven are a sheer delight to indulge in!
What are the reasons that make Italian cuisine so popular and acceptable worldwide? The liberal use of olive oil?; the freshly plucked tomatoes?; the aromatic herbs used in cooking?. Probably all of them and many more reasons make up the highly addictive Italian cuisine!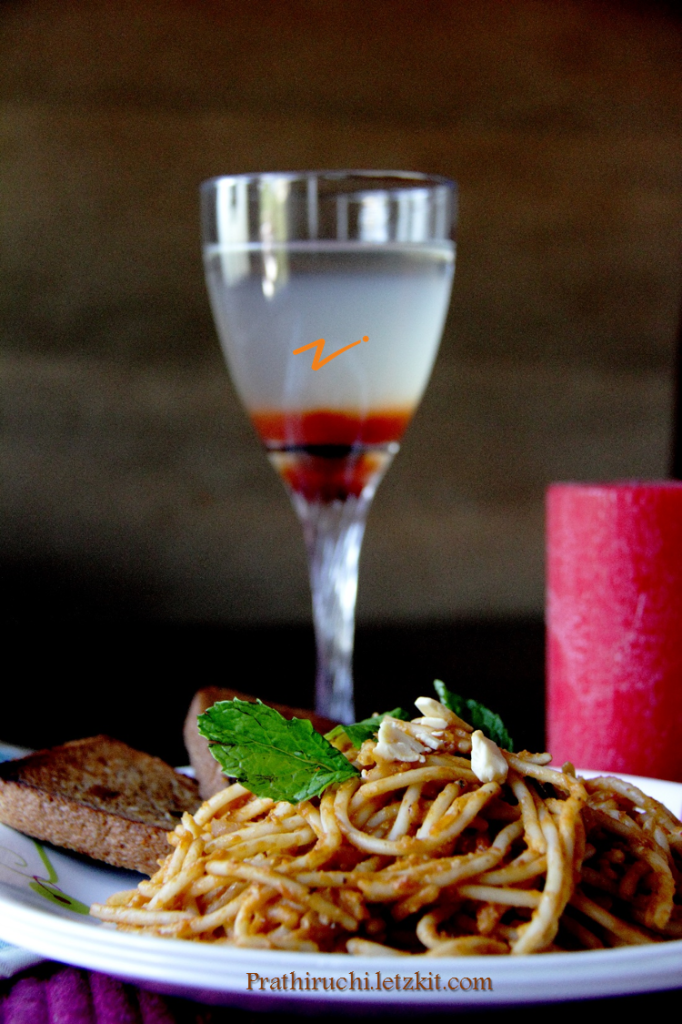 Under pasta alone you have bewildering varieties of pasta available – spaghetti, penne, macaroni, fussili, lasagne, gnocchi, ravioli, fettuccine, tagliatelle and so on.When it comes to sauces and pasta flavors, you are spoilt for choices! You have the simple aglio oglio where pasta is tossed in garlic, chilli flakes and olive oil. Then there is the tomato based spicy sauce or basil flavoured or bechamel sauce, pesto and so on. The key feature of all these sauces is that fresh produce and herbs that goes into making these delicious sauces.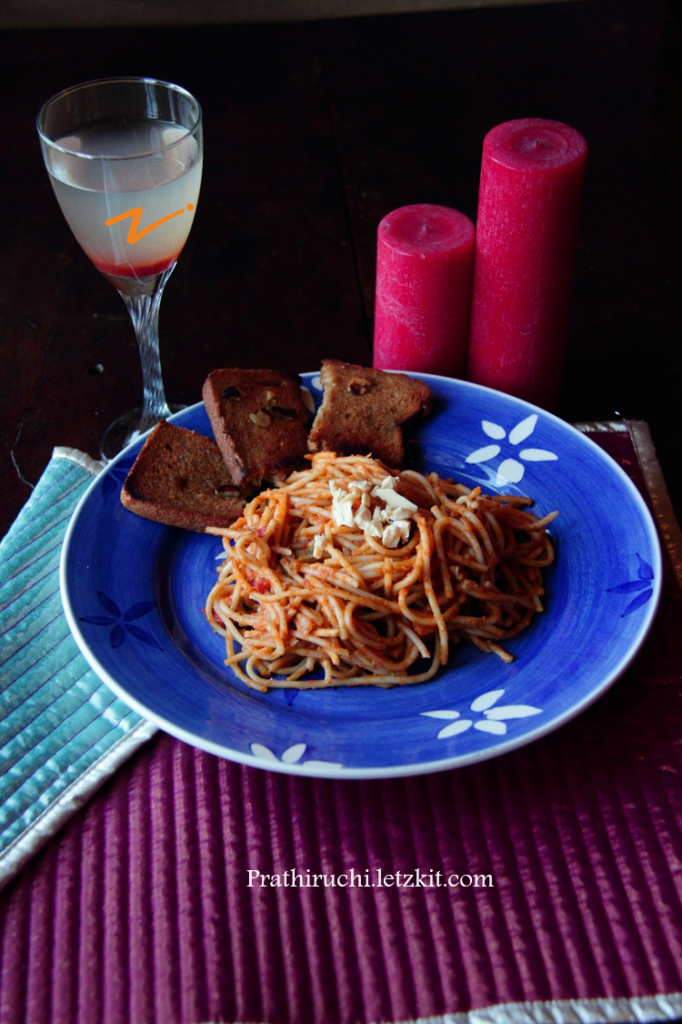 Marinara sauce or the mariner sauce is a Southern Italian tomato based sauce flavored with garlic, onions and herbs. The flavors and herbs may be varied for a different taste each time. You could add olives or capers or jalapenos. Traditionally this sauce has been used to flavour pasta, pizza and rice. While tomato sauce alone in Italy is referred to as salsa di pomodoro, the term marinara is used only in association with other recipes in which the sauce is used.
For instance, you have the spaghetti alla marinara which literally translates to mariners wife spaghetti.
The version given below is delicious and creamy yet a low cal recipe. Vegans can easily skip the cheese and still enjoy a comforting and lip smacking version of Spaghetti in Marinara Sauce.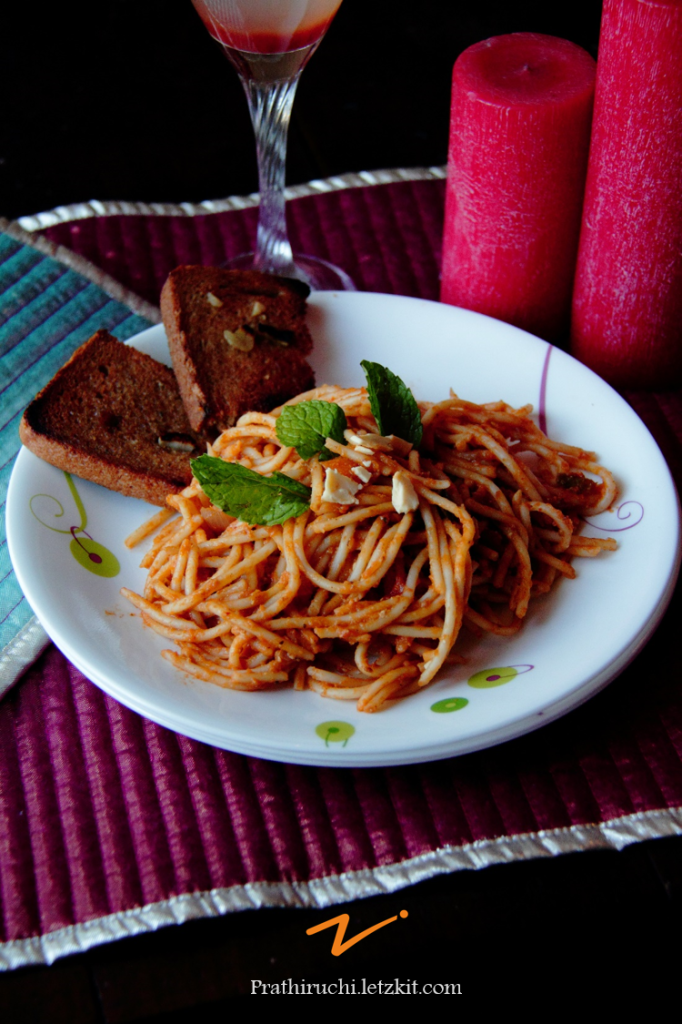 Pasta in Marinara Sauce
Pasta tossed in Marinara Sauce and topped with cheese!
Ethnicity – Italian
Spaghetti (uncooked – 6 handfuls OR 300 gms (yields ~6 cups boiled))
Salt – to taste
Olive or cooking oil – 2 tbsp
For garnish (optional or select any of your choice)
Extra virgin olive oil – to drizzle on top
Grated parmesan OR cheddar cheese
Chopped black olives
For Marinara sauce
Makes ~ 3 cups
Olive or vegetable oil – 2 tbsp
Onions – 2 (medium)
Carrot – 1 (large)
Green capsicum – 1 (large)
Garlic cloves – 5 (medium)
Tomatoes – 1 kg/ ~2 pounds
Tomato puree (tetrapack – 3/4 cup)
Jalapenos – 1.5 tbsp (chopped (optional))
Chopped cheddar or parmesan cheese – 2 tbsp (optional)
salt – to taste
sugar – to taste (optional)
black pepper (freshly ground – to taste)
Mixed dry herbs/ pasta seasoning – 1 tbsp or to taste
Bay leaf – 1
To cook spaghetti, boil plenty of water in a deep saucepan. Add salt, 1 tbsp oil, pasta and cook/ boil. Stir in between. Cook for about 7 to 8 mins till al dente (almost soft but yet firm stage). Remove pan from heat and set aside for 2 mins. Drain. Refresh cooked pasta with some cold water. Drizzle 1 tbsp oil to prevent sticking and mix gently. Cover and set aside till required.
Or cook the spaghetti as per instructions of the packet.
Wash and chop the onions, capsicum. Wash, peel and chop carrots. Peel and chop garlic.
Mark an 'X' in the bottom of tomatoes and blanch in hot water till skin peels off easily. Peel and chop the tomatoes.
To make the sauce , in a saucepan heat olive/vegetable oil, sauté onions, carrots, capsicum and garlic. Cook until vegetables turn tender.
Then add in the chopped tomatoes, tomato puree, salt, pepper, sugar if needed, mixed herbs, bay leaf. Bring to boil. Simmer for about 15 mins or till required consistency. Lastly add the jalapenos and chopped cheese if adding. Remove from heat.
Discard bay leaf. Now you could either toss cooked pasta in this chunky sauce OR puree half of the sauce and mix with the remaining chunky sauce. Pureeing half of the sauce gives the sauce volume and yet has the bite from vegetables.
At serving time, reheat the sauce. Add the sauce to cooked spaghetti/ pasta just enough to coat or as per taste. Let warm through and garnish and serve immediately with some warm and crisp Garlic Bread!
In place of ready made tomato puree, you could add 3 to 4 tbsp tomato sauce/ ketchup.
For a vegan version, simply skip the cheese.
Replace spaghetti with any other pasta of your choice.
Adjust spice level, seasoning and cheese as per taste.
Quantity of uncooked spaghetti required per person is approximately how much you can hold in your fist.