They say small towns are devoid of thrilling events. Like my native place. The place were I spent many a vacations in. Here the time stands still. The nights are dark and peaceful with the silence broken only by the fireflies. A blanket of calmness covers the whole town. It was a place we ran too whenever we craved to calm then frenzied mind. I am talking about my ancestors village. It is a village untouched by noise, pollution and all the characteristics of a modern town. It is a village of simple living, unity and hospitality. To me it is a prosperous. It is a place rich in humanity, love for neighbors, fresh air, cool breeze, plentiful of shade under the big trees. Flower blooms merrily The golden sunlight fills the entire village with warmth during the day and the with silvery light during the night. Sunrise and sunset are an everyday sight, something that is not visible in big cities.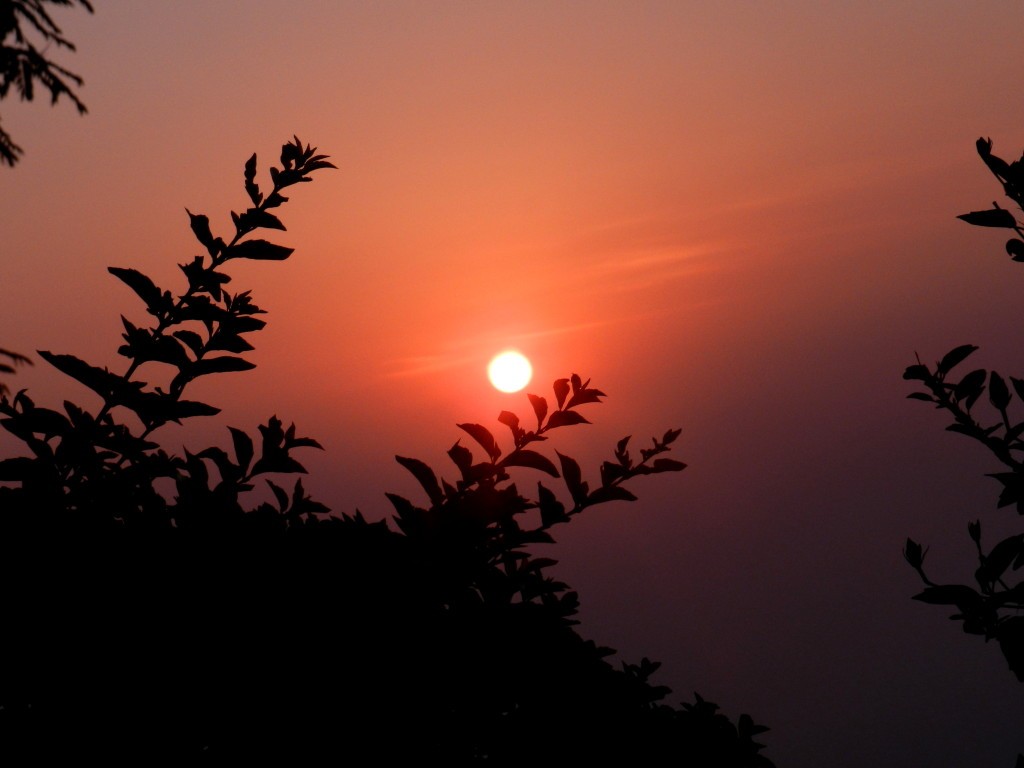 Not far from this almost 'meditative' town is the city I grew up in – Mangalore. With my native just 60 kms from Mangalore, visits to the village were a regular affair. The city`s landscape is characterised by swaying coconut palms, pristine beaches and freshwater streams, red clay tiled roof buildings, paddy fields. From quieter life, the city is waking up to modern and faster paced life today. But the 'village' still remains unaffected. The natives continue to live a simple, fuss free life. Living on simple, classic peasants food. Using just a handful of ingredients locally available. The people here celebrate life with with these humble dishes, having them amidst the generosity of nature.
Mangalore being close to my native, the local food is similar in both places. Dishes with abundance of coconuts, chillies, curry leaves. We have grown up eating these simple classics made by mom. Even today just the aroma of these humble dishes brings a rush of emotions and memories. Sights of clear blue sky, birds fluttering, leaves dancing to the tune of the wind.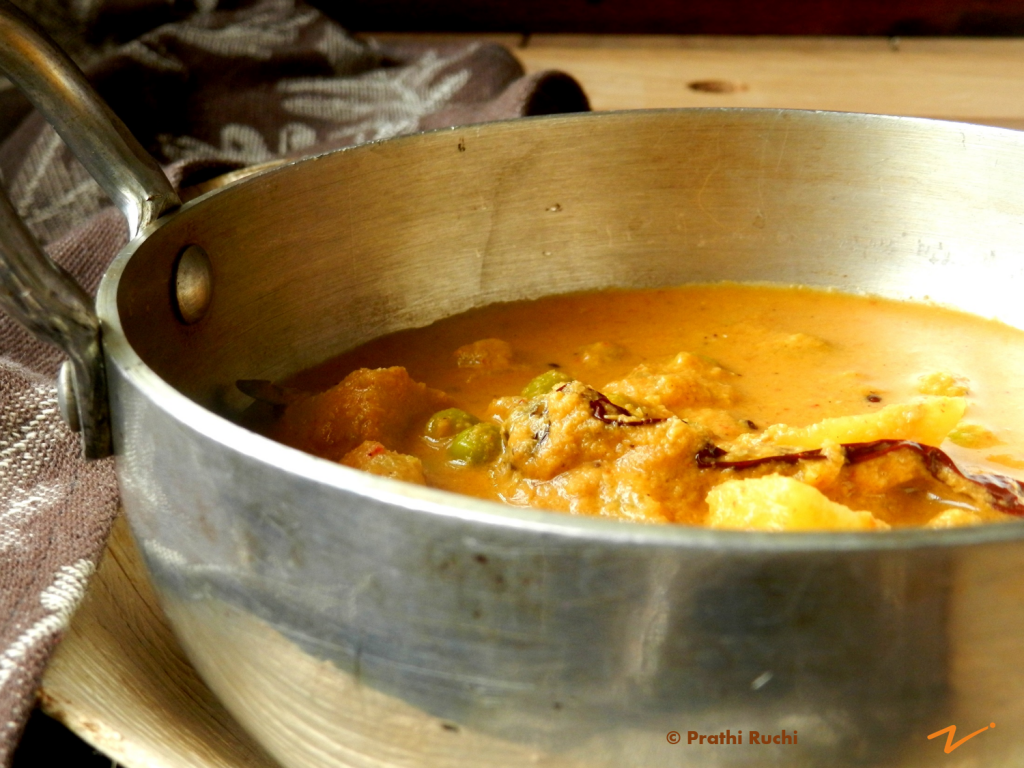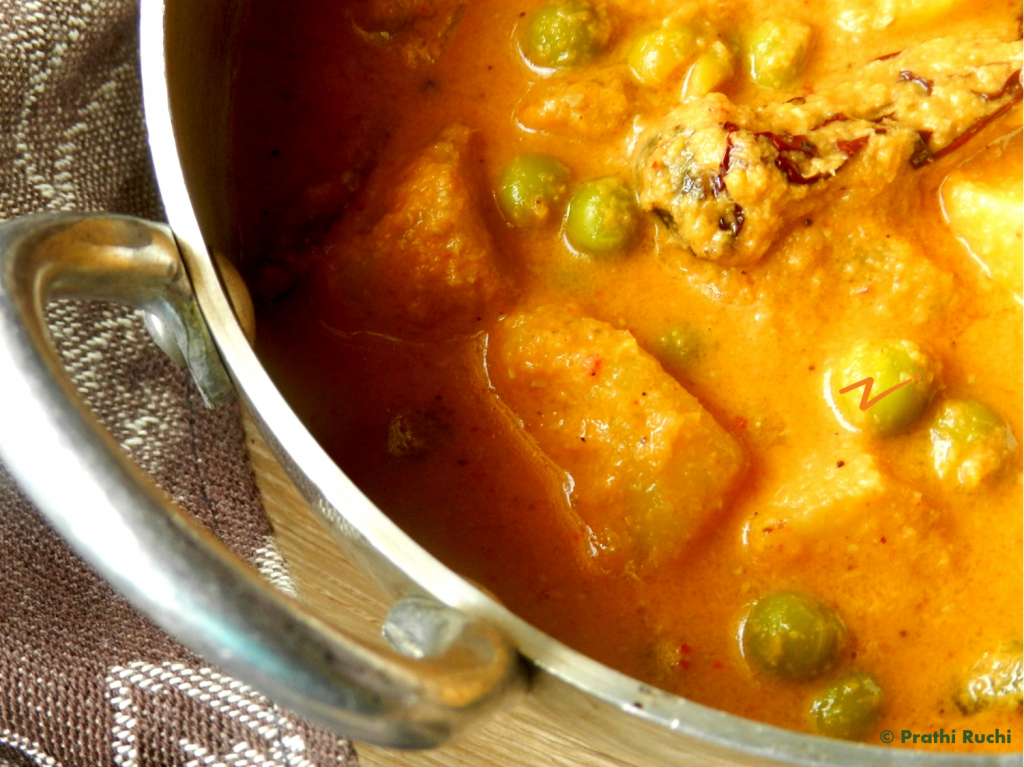 Gashi is one such dish. The vegetables are simmered in a coconut, red chilli and tamarind based gravy and finished off with a tempering. Gashis are versatile. Different vegetables give different flavours. They can be had with rice or chapathis or even neer dose. The traditional way of grinding the masala with a stone grinder of course gives gashi its unbeatable taste. Some add garlic to the masala or to the tempering. Gashi on top of mounds of rice is a typical village lunch. Yet you cant ignore the nobility of a gashi.
Potato & Peas Gashi
Vegetables simmered in a thick coconut based gravy, from the cuisine of coastal Karnataka
2 medium potatoes
3/4 cup green peas
salt to taste
1 tsp oil
For the masala paste
1 cup coconut
a marble size piece tamarind
3-4 dry red chillies (byadgi)
1 tsp coriander seeds (dhania)
1-2 green chillies
For the tempering
2 tsp oil (coconut or vegetable)
1 tsp mustard seeds
1 dry red chilli (broken)
1/8 tsp hing/ asafoetida (optional)
few curry leaves
Peel and cube potatoes. Boil peas and potatoes with some salt till 3/4th cooked. Drain and set aside. Reserve the water for gravy.
For the masala paste, fry the red chillies in 1 tsp oil till crisp and bright red. Grind together with the remaining ingredients for masala paste. Add the green chillies towards the end and grind.
In a thick bottom pan put the vegetables, masala paste, some water, salt. Cook till gravy thickens. Remove from heat.
For the tempering, in a small pan heat oil, add mustard seeds and let crackle. Add remaining ingredients. Pour over the gashi. Cover and set aside for 2 mins to let the flavors blend.
Serve hot with steamed rice, neer dose, chapathis, set dosa, puris.
When grinding the masala paste, you can also add 2 cloves garlic.
When grinding the masala, you can also add quarter or half of a tomato for color.
When grinding the masala, you may also add cumin seeds or may add cumin for the tempering.
For the tempering, you may also add garlic, chopped onion. Fry till brown and then add to the gashi.
You may make gashis of kabuli or black chana, raw jackfruit, chana-yam, chana-raw banana.