PART 2 – A TRYST WITH JOLA ROTTI
The search for a perfect GIRMIT continues. We make a stop at Dharwad which is about 20 kms from Hubli. It was a hot sunny day. We set about to finish our task and eagerly awaited lunch time. Our driver Manju suggested a hotel nearby for a typical North Karnataka style meal. And of course we decided to go by his suggestion!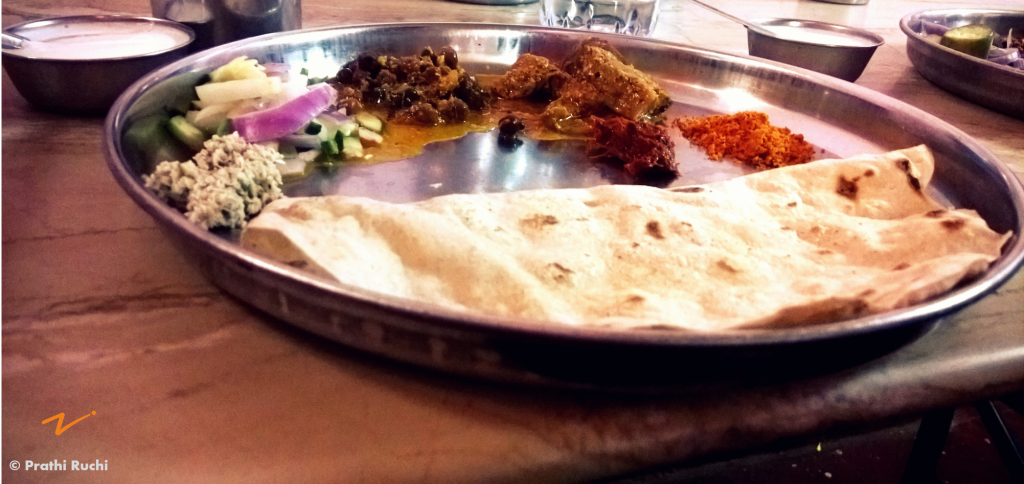 The name of the place was 'Shree Prabhu Khanavadi' located near Court Circle, Dharwad. As we entered the place we found a queue of people waiting to collect meal coupons. The rush was the first sign of how popular the place was. We finally found a table for ourselves and got seated, ready to dig in to some sumptuous yet rustic local meal. First a thali was placed before us and one by one it was filled with the mouthwatering dishes – Onion cucumber salad, coconut chutney, red chilli chutney, shenga chutney podi, badane ennegai, kalu huli. And then came piping hot jola rottis to mop up and relish all the chutneys and subzis! Then followed steaming hot rice and sambhar and a bowl of curd to end this healthy meal.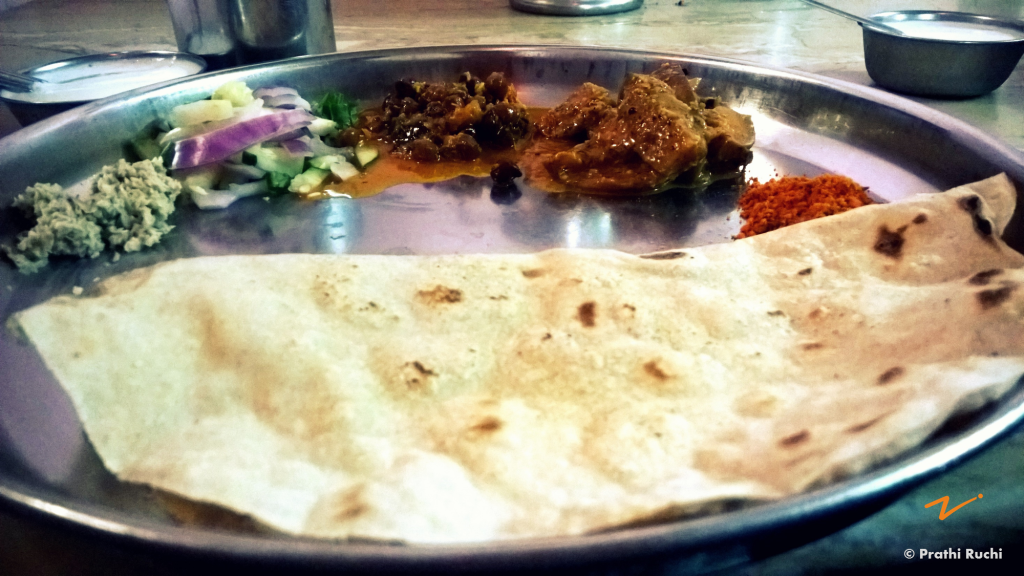 The salad and coconut chutney were the regular ones we make at home. What stood out was the Kempu (red) chutney! We expected it to be fiery hot but surprisingly it was not too spicy. It was mildly spiced chutney made from red chillies, garlic, tamarind and spices like coriander etc. It was intense and addictive and a perfect accompaniment to the rotis. It was love at first taste! The shenga chutney podi (peanut dry chutney) is a blend of peanuts and chillies and minimal spices. The nuttiness from this chutney is perfect with rotis. The gravies too were good though not spicy. Ennegai is a popular North Karnataka dish made from eggplants (badane) and simmered in fresh gravy of coconut, peanuts, chillies and tamarind. The gravy is cooked well in oil and hence its name – Ennegai, enne meaning oil. No Hubli-Dharwad meal is complete without the famed Badane Ennegai. Other popular subzi (gravies) of this region are Kaalu (lentils) huli. Hesaru (moong), kala chana (black chickpea) etc are simmered in a mildly spiced and tangy gravy. Both gravies were lip smacking and tasty. This was followed by steamed rice and sambhar. Sambhar is a stew made from a blend mixed vegetables and lentils and spiced with sambhar powder. The sambhar served was regular, nothing spectacular and found it a bit bland for our taste. A bowl of set curd completed the meal.
On discussion with the locals we got to know that the essential ingredient that lends a unique aroma to all their gravies is uchellu podi or powder from Niger seeds. They resemble black cumin seeds. They are powdered with few other spices and added to ennegai etc. Coming to shenga chutney podi, it is dry chutney powder made of peanuts. Peanuts are roasted and ground with few spices such as red chillies and gram dal, tamarind etc. Shenga chutney podi is a delicious accompaniment to jola rottis/ bhakris or even piping hot idlis. Hot jola jowar rottis are a staple of North Karnataka. They are flatbread made from sorghum flour. Jowar is widely grown in dry areas with scanty rainfall. The jola rottis served at the Khanavadi were so soft and thin. The place makes about 800 rottis in a day! Five women meticulously cook rotis one after the other. While one mixes, the others rolls out, and one cooks the rottis on wood fire. It is continuous process for them from the time the place opens for lunch, around 12 PM till closing time, about 4 PM. And then the same system continues for dinner!
Jola Rottis being cooked over iron tava on wood fire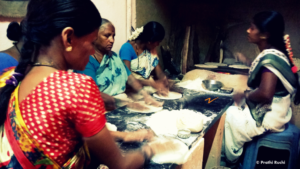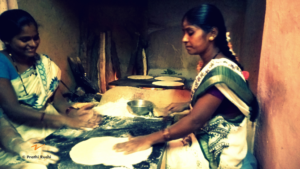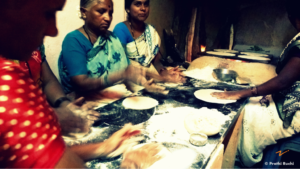 We visited the branch outlet for lunch which was started 9 years ago. We were told by Mr. Hiremutt, the person in charge here that their main khanavadi was started 40 years ago. Off we went to the main place where it all started! It was located near the old Dharwad Bus stand. It was 4 pm when we reached the place. Though it was closing time they gave us a warm welcome and when we told we were interested in knowing more about the place, they were more than willing to share more about Prabhu Khanavadi. Veerayya Basavaraj and Guruprasad Iyer, both who manage the place answered all our queries. They make about 500 jola rottis for lunch and then again about 300 for dinner. The focus is only Dharwad cuisine. Their everyday menu is veg meals, reasonably priced. Meals include curries made from eggplants or various lentils which change everyday. Dry chutney made from peanuts is a standard on the menu, a specialty of the region. Then of course the kempu chutney is yet another standard on their menu.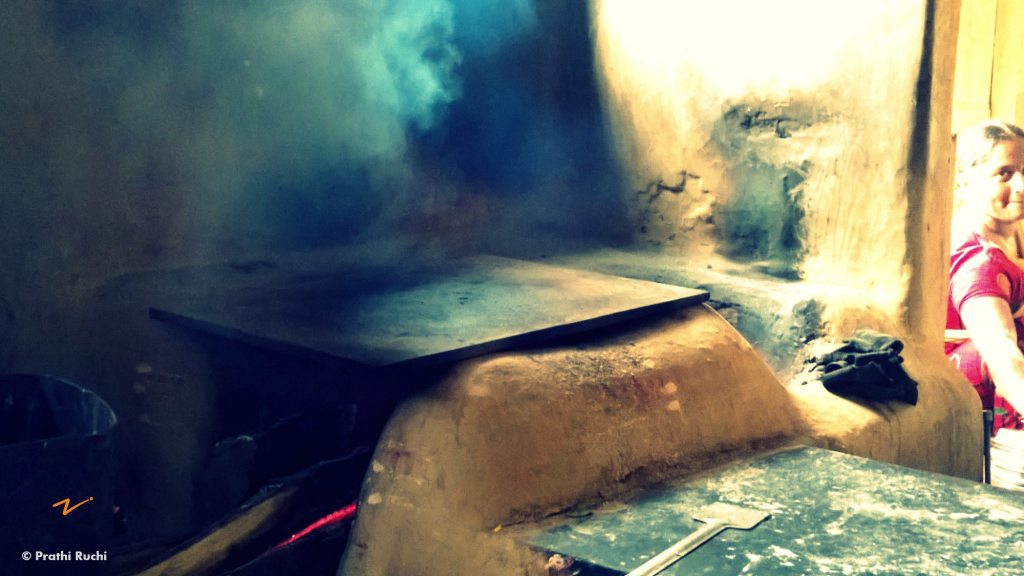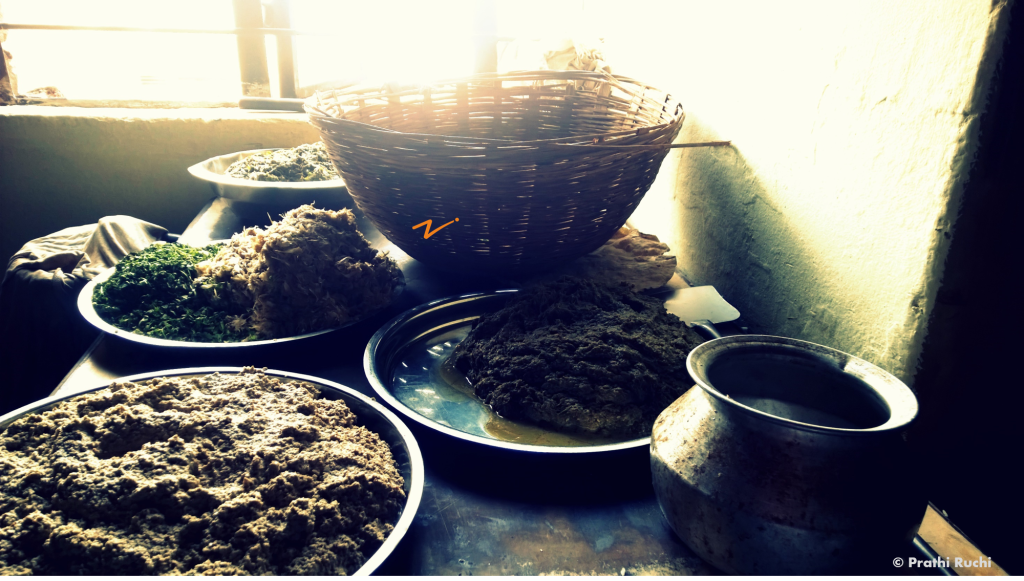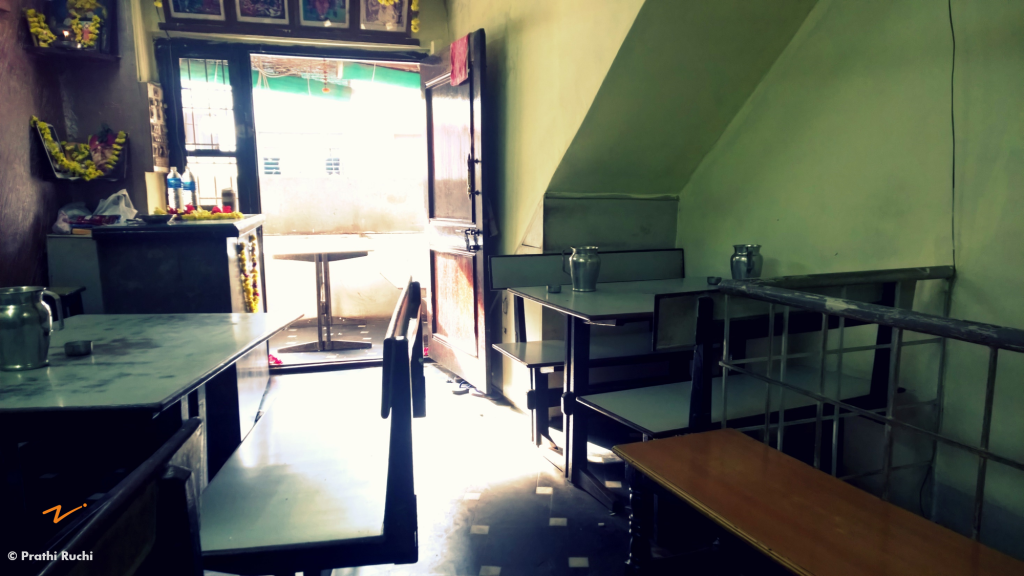 And all this in one small, rustic kitchen! We got a chance to have a look at the kitchen in both places. Though it was a traditional style kitchen, all processes and ingredients were meticulously organised and cleanliness was given priority. One place was reserved for all the pre-preparation, chopping et all. Next a dedicated place for making rotis and then for the rest. All in all it was a delicious, comforting, rustic meal at its best!
Location – Prabhu Khanavadi, Near Court Circle, Dharwad
Prabhu Khanavadi, Near Old Bus Stand, Dharwad
In between all this, we finally did get to taste the GIRMIT, the reason we explored various eating joints in the city to start with! We had an acquaintance with this popular street food at Hotel Nataraj in Dharwad. It is to be relished with piping hot and spicy mirchi bajji which sadly was not ready when we went. The girmit nevertheless was tasty. Girmit is a snack made from puffed rice and tossed with onion-tomato gravy at serving time. A generous sprinkling of roasted gram powder is added which gives a unique flavor. While this is mildly spiced, the mirchi bajji (green chilli fritters) served along with it lends the spice element!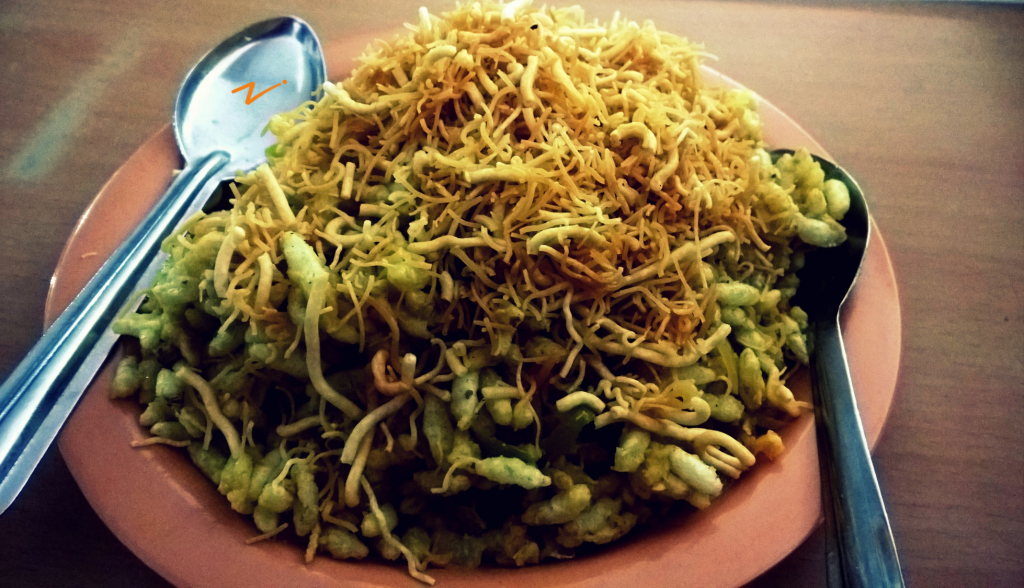 So the search for GIRMIT is only half done…Hopefully we will get to taste the complete dish during our next visit to Hubli-Dharwad!
Read 'In Search of GIRMIT…' , Part 1
Author – Prathima Nithin
Photographer – Nithin R Puthige, Prathima Nithin