She longed to be set free. To fly away to a distant place where the sun always shone down on earth. Where the steady golden rays of the sun penetrated into all places and drove away the darkness. Where even rains did not chase away the sunlight but would fill the sky with rainbow. Flowers bloomed all through the year. To a place where she was in a harmonious relationship with nature. It fed her body & soul. She would taste food of elemental beauty.
The place would be filled by melodious music from the chirping of the birds and flowing river. The music would captivate her soul and fill her mind with positivity. And this would trigger the hidden joy inside her to break free and engulf her permanently.
All chains that tied her and kept her from her freedom would melt away, never to return.
She would be deliriously happy, forever.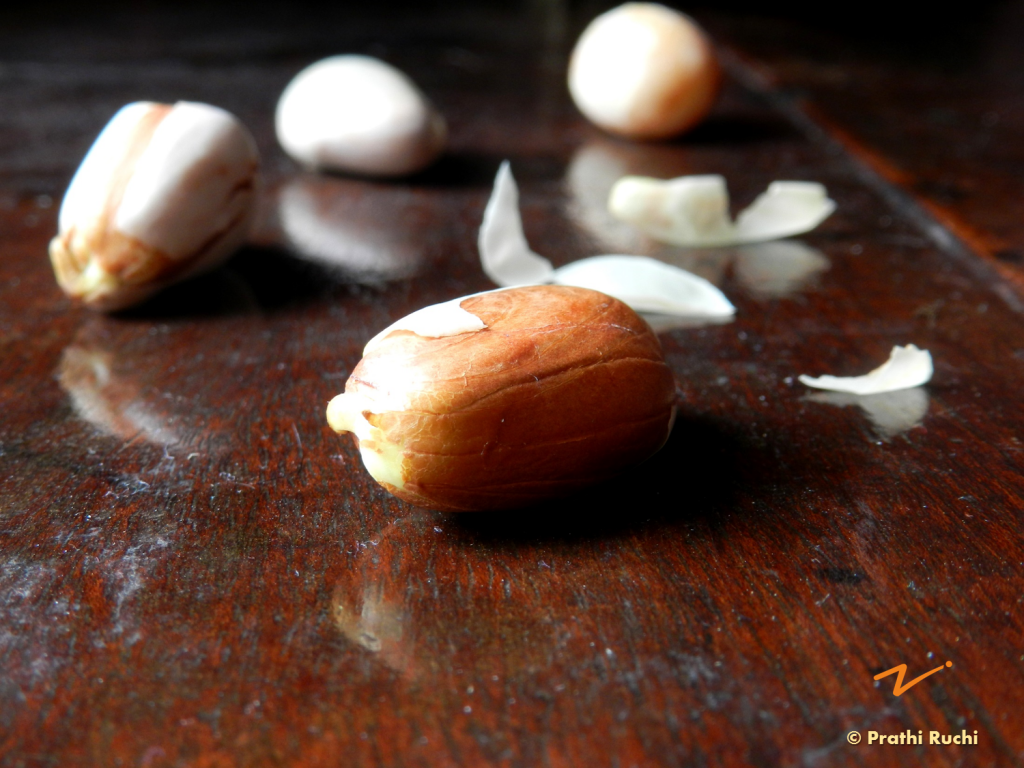 One can only dream of a life filled with only the 'good'. Such 'colourful' life can never exist. The sun can never shine all day but will make way for darkness. But in the darkness one can find the twinkling stars and the steady gaze of the moon. Even when the moon disappears amidst the dark sky it returns only to reassure that 'darkness' is only a temporary phase. Clouds cover the sun like a blanket to make way for the rains. And after the rains one can feel the freshness in the air.
After the storm comes a calm.
After a night, comes morning.
You are a new person after every storm and every night.
You are a winner, a stronger person, more aware of life and its mysteries.
The storm and darkness teach you that.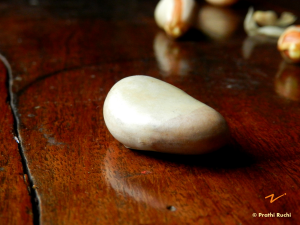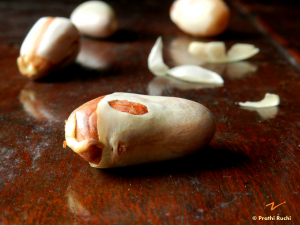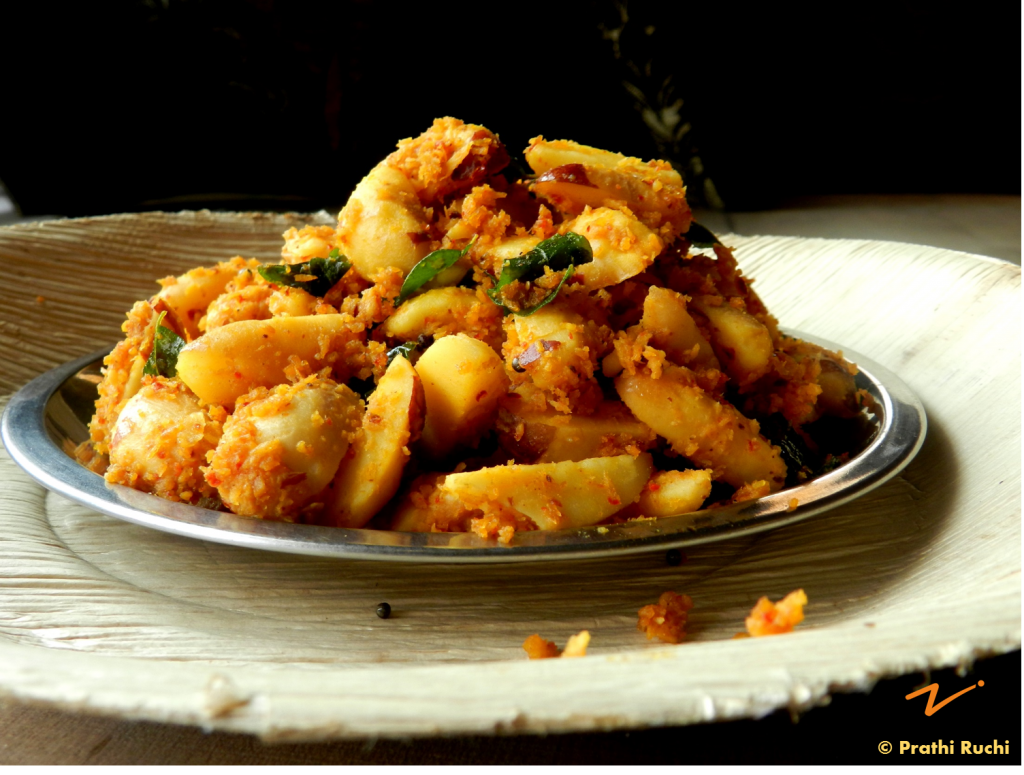 Life may not be pretty and colourful always. But its always beautiful. We may see only the hideousness on the surface but dig deeper and you will find the light, the heart of life. Here there is no pain and sadness. But you are free to be who you are, live freely, love freely, without judgements.
Good things, beautiful things are not easily available. And this holds good for nature too! Mangoes, the king of fruits are available only during a season. And so is Jackfruit. Now is their season.
When it comes to any locally grown vegetable or fruit, I prefer to stick to traditional recipes and rarely venture into unknown areas. And so the Jackfruit Seed is cooked in a typical Mangalorean/ Kundapur style masala called sukka.
Sukka it a semi dry paste made of chillies, tamarind and lots of coconut! Yes, coconut is the dominating ingredient. You can make sukka from any vegetables, like beans, carrot, peas, okra, potato, mixed vegetables etc. You could add garlic when you grind the paste but this is very optional. But do not skimp on the coconut. And if desired, use coconut oil for the tempering!
Sukkas are served as side dish to rice-daal meals, chapathis, neer dose.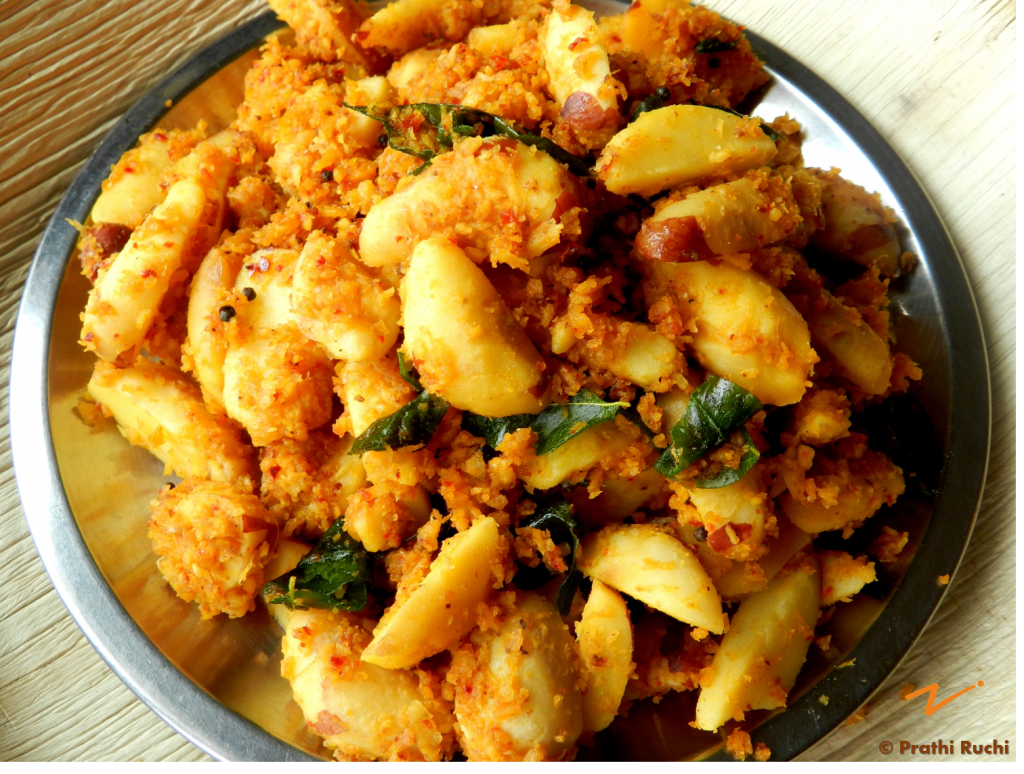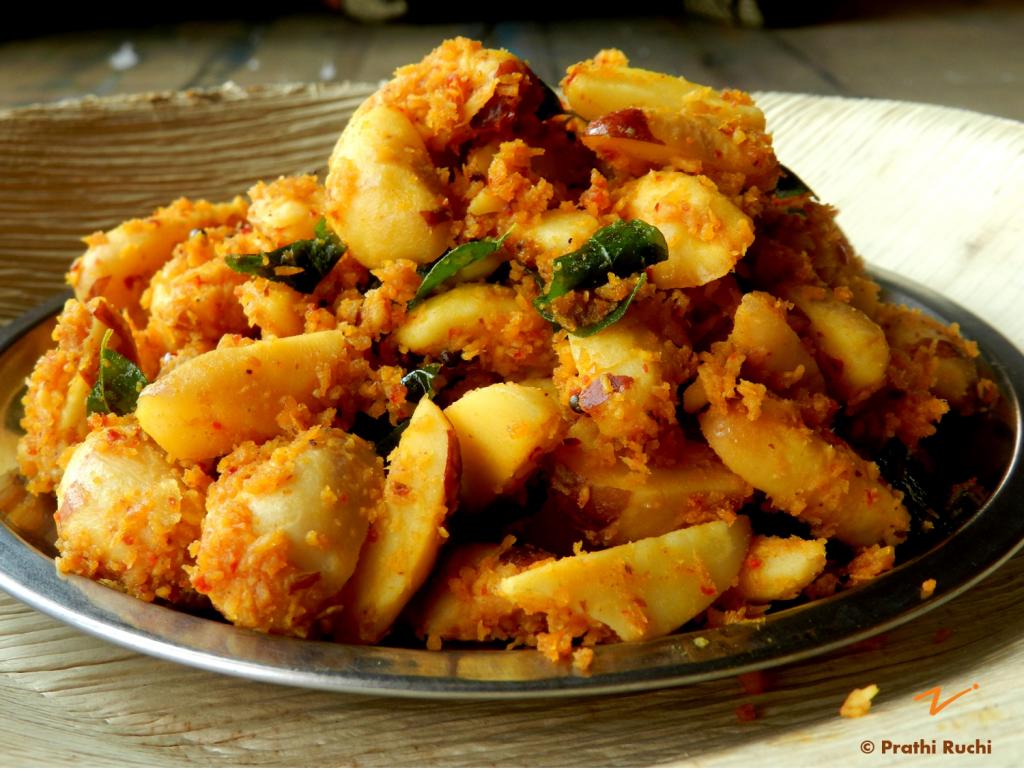 Jackfruit Seeds Sukka
Jackfruit seeds tossed in a traditional Mangalorean coconut masala.
2-3 cups chopped jackfruit seeds
salt
1 tsp jaggery (optional)
For the sukka paste
4 long red chillies
a marble size tamarind
1/4 tsp turmeric powder
salt to taste
1/2 to 1 cup grated coconut
For the tempering
2 tbsp coconut/ vegetable oil
1 tsp mustard seeds
few curry leaves
Cut the seeds into 2 or 4 pieces. Peel of the thin white film like layer. Wash. If you want to peel of the brown skin, soak for 30 mins. The scrape off the brown skin with a knife. Pressure cook with water and salt for 4 to 5 whistles or till done. They should be cooked but should not turn mushy. Drain.
For the paste, grind together red chillies, tamarind, turmeric, salt without adding water till smooth. Then add coconut and grind coarsely.
Heat oil, add mustard seeds, curry leaves. Let seeds crackle.
Add the paste and roast for 1-2 mins.
Add the cooked and drained jackfruit seeds. Toss and let roast for few mins. Can add jaggery, if adding.
Serve hot with rice or chapathi.
For variation, can add potato cubes, peas along with jackfruit seeds.
You can make sukka from cabbage, beans, okra etc instead of jackfruit seeds.
For a different flavour, can add chopped onion, asafoetida for the tempering.