Its hard to resist anything fried till golden, crisp and tempting!!! Moreover it is the season to indulge!!! Festive celebrations are just round the corner. The weather is turning cold and wintry with rains making their appearance every now and then.
Taking in the cool air and winter shades of nature during our drive to office is enough to charge one to gear up for the long celebrations next week.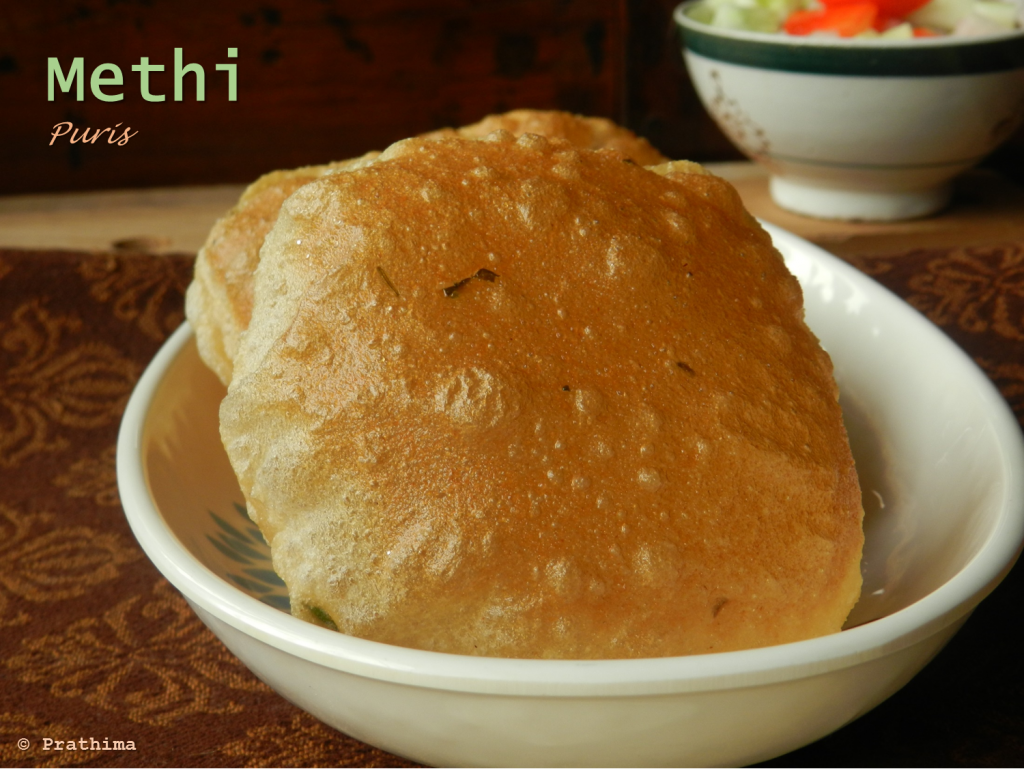 Puris or pooris is one thing that is always a welcome as part of your daily menu or party menu! Golden fried puffed up puris dipped in spicy Indian curries is a mighty delicious combo. Puris are nothing but dough made from wheat flour, rolled out thin and deep fried. The puri of all sorts have always been popular. Throw is few spices and voila, you have flavoured puris!
Today`s special flavour is ajwain and methi. A light sprinkling of carom seeds (ajwain) and generous pinch of dried fenugreek leaves (kasuri methi) give the puris an addictive aroma and taste. You could even add some grated cheese along with carom and fenugreek. The cheese version was my childhood favourite. Piping hot cheese methi puris was well received by us as an after school snack!
Flavoured puris are ideal as part of your Deepavali menu too. You could grind some mint leaves, green chillies and coriander leaves coarsely and add to the flour for minty puris. Or simply sprinkle spice powders like chilli, garam masala, coriander, cumin, turmeric, pepper to the flour and knead to a dough for masala puris. The options are many.
Since these are flavored you could even serve with any spicy chutney and salad as accompaniment.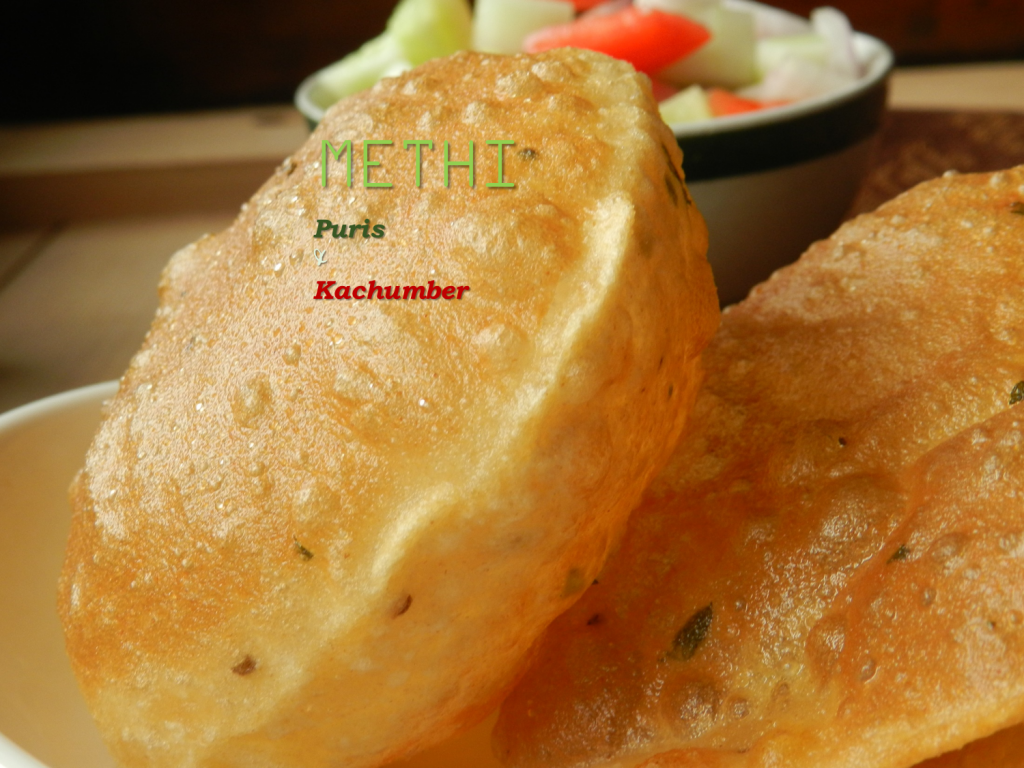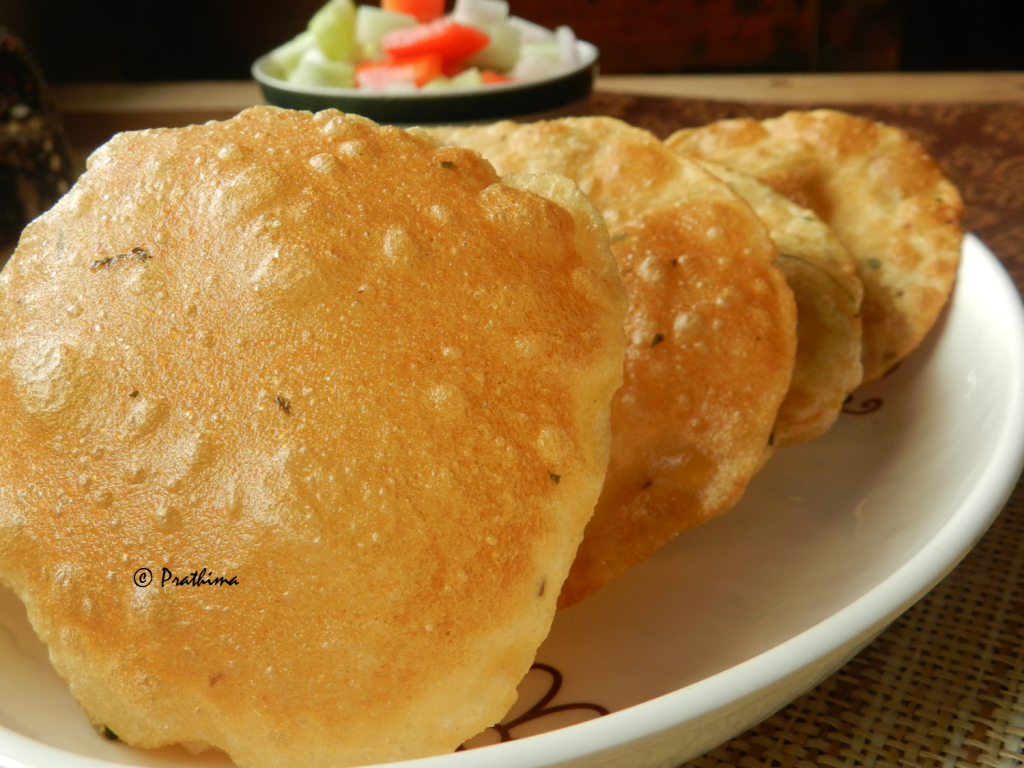 Ajwain Methi Puris
Golden fried methi flavoured puris.
1 cup wheat flour
1 tsp semolina (rava/sooji)
1/4 to 1/2 tsp carom seeds (ajwain)
1 tbsp kasuri methi
1/2 tsp chilli powder (optional)
1/2 tsp melted ghee
salt to taste
water as required
oil to deep fry
In a mixing bowl add the flour, semolina, carom, dry fenugreek, salt, chilli powder, ghee
Add water as required and knead to a smooth and stiff dough. The dough should not be hard. Knead well. Let rest for 30 mins or so, not too long.
Heat oil to deep fry.
Make lemon size balls from dough and roll out to medium thickness. Avoid adding flour to roull out. If required, dust with flour very lightly.
To check the right temperature of oil, drop in a small piece of dough into the oil. If it is the right temperature, it will rise immediately without browning it.
Slide in rolled out dough into the hot oil. After a second, press it with a slotted ladle. It will puff up. Flip it gently and allow it to cook on the other side for few seconds till the bubbles cease. Remove and lower the flame till you drop the next puri. Drain the puri on a tissue paper.Keep the flame high and repeat the same for remaining puris.
Serve hot with chole masala or any curry/ spicy chutney of your choice.
For variation, you could add some grated cooking cheese along with the spices when kneading the dough.
You could add chopped green chillies in place of chilli powder.
Semolina is added to get crisp puris.