Daals or lentils are a welcome, anytime and any day! Be it Daal Pakwaan for breakfast or Dal tadka for lunch or for dinner. Daals pair well with rice or a variety of Indian breads. And they are so versatile! Different combinations of daals and seasonings give a different dish each time! While dal tadka, Panchratna daal, daal fry, Punjabi daal etc are popular in North India, the humble Sambhar is popular in South India. The Udupi cuisine includes Masale Huli or the Bolu Huli or Tovve prepared using tur dal.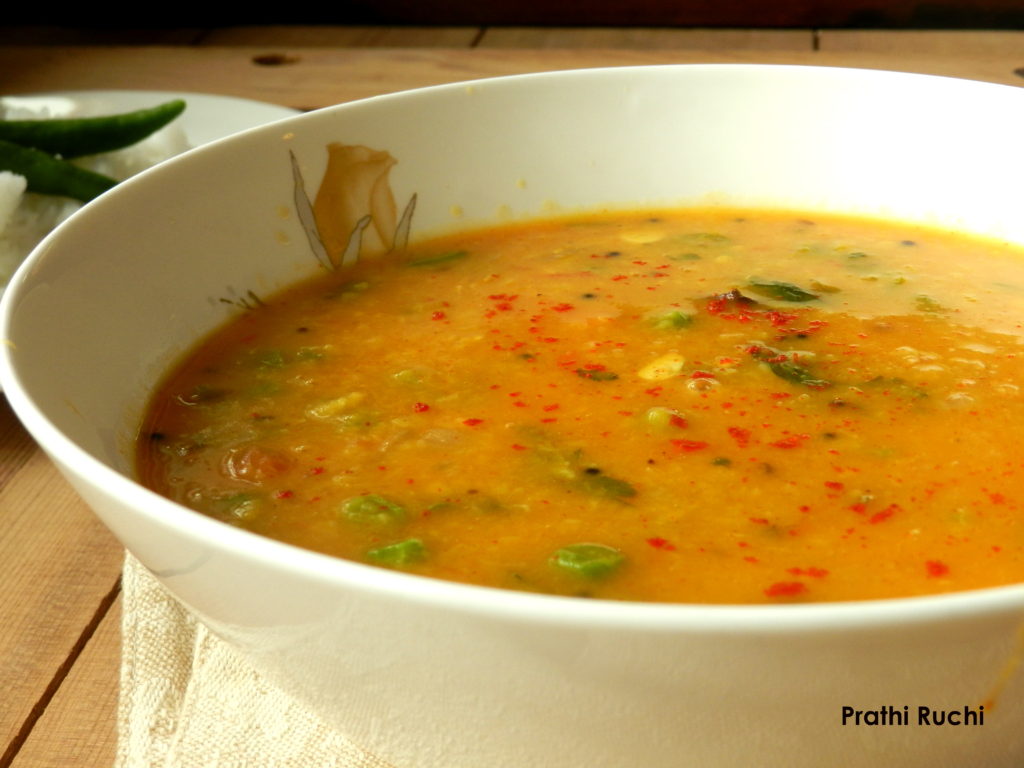 Well, this is just a very brief list of dishes with daal as the star ingredient. The list goes on. May be you could name some of the daals made in your home or share the recipe…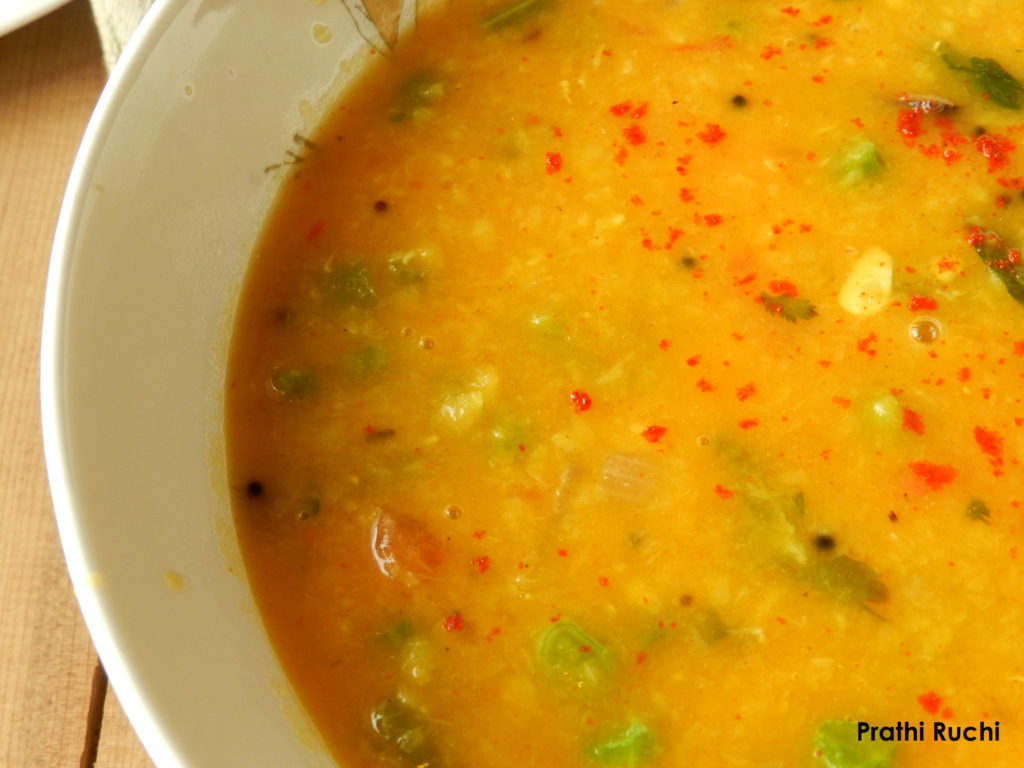 Over to today`s recipe. It is a combination of 3 varieties of dals and vegetables. Throw in some paneer as well for the paneer lovers! The recipe s slightly adapted from Subzi Daal by Tarla Dalal with modifications to suit our taste.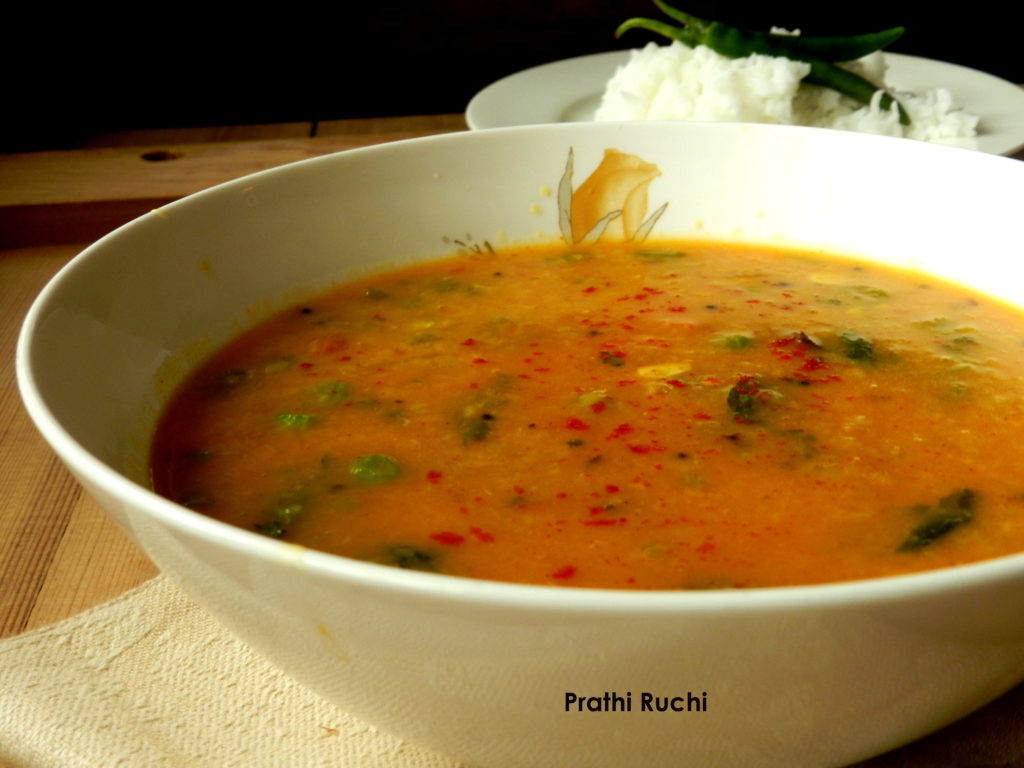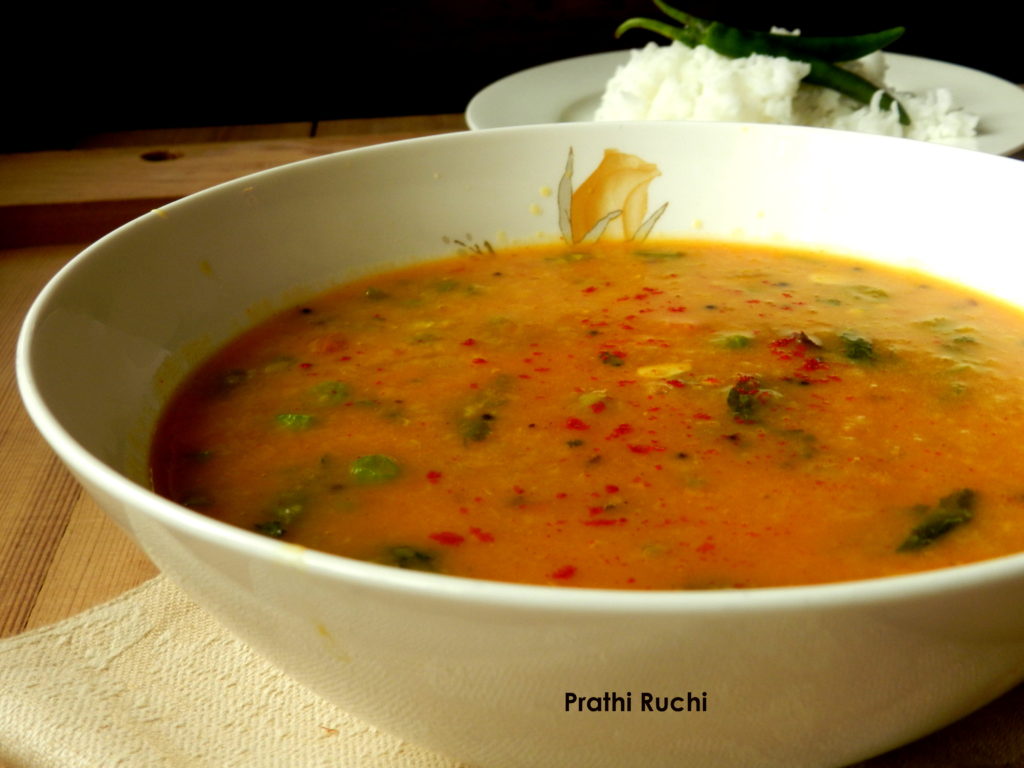 Subzi (Vegetable) Daal
Vegetables simmered in a mildly flavoured daal based gravy, tasty & nutritious!
1 cup vegetables – use any combination of choice (carrot, beans, peas, aloo, baby corn, corn etc)
50 gms paneer (optional)
1/2 cup 8 tbsp tur daal (split pigeon pea)
2 tbsp moong dal (split yellow gram)
2 tbsp chana dal (split bengal gram dal)
Tempering
2 tbsp ghee or vegetable oil
1 tsp mustard seeds
1 tsp cumin seeds
1/4 tsp asafoetida
1 red chilli (broken)
few curry leaves
1 onion
1-2 to mato (pureed or finely chopped)
1/4 tsp turmeric powder
1/2 tsp red chilli powder
1/2 tsp coriander powder
1/4 tsp cumin powder
1/4 tsp garam masala powder
1/2 tsp pav bhaji masala
salt to taste
juice of 1/2 lime
1/4 cup coriander leaves (finely chopped)
Paste
2-3 green chillies
1/2 " ginger
2 cloves garlic (optional)
Garnish
To serve
steamed rice (peas pulao, jeera rice or phulkas)
Wash daals well. Add required water, turmeric powder, chilli powder. Pressure cook for 3-4 whisltes. Let steam escape. Open lid and mash daal light.
Wash vegetables well. Prepare vegetables as per the type – peel, chop finely. Boil all vegetables with little salt.
Puree or finely chop or grate tomatoes. Finely chop onions. Grind green chillies, ginger, garlic to a paste.
Heat ghee or oil. Add mustard, cumin, asafoetida, red chilli. Let crackle.
Add onions, curry leaves. Fry till onions turn translucent.
Add tomatoes, fry till mushy.
Add coriander leaves, red chilli powder, coriander powder, cumin powder, pav bhaji masala, garam masala. Mix well.
Add the cooked vegetables, paneer. Mix well.
Add the daal, salt, water as required for consistency. Simmer 5-7 mins.
Remove from heat, add lime juice. Garnish and serve hot.
In the end you can give a tempering of ghee/ butter and red chilli powder for restaurant style presentation.
Use any combination vegetables of your choice.
You could use only tur dal too or tur dal with moong dal.
You can replace chana dal with masoor dal.
5. You can even add some kasuri methi towards the end for a different flavour.