…And Barbeque Sandwich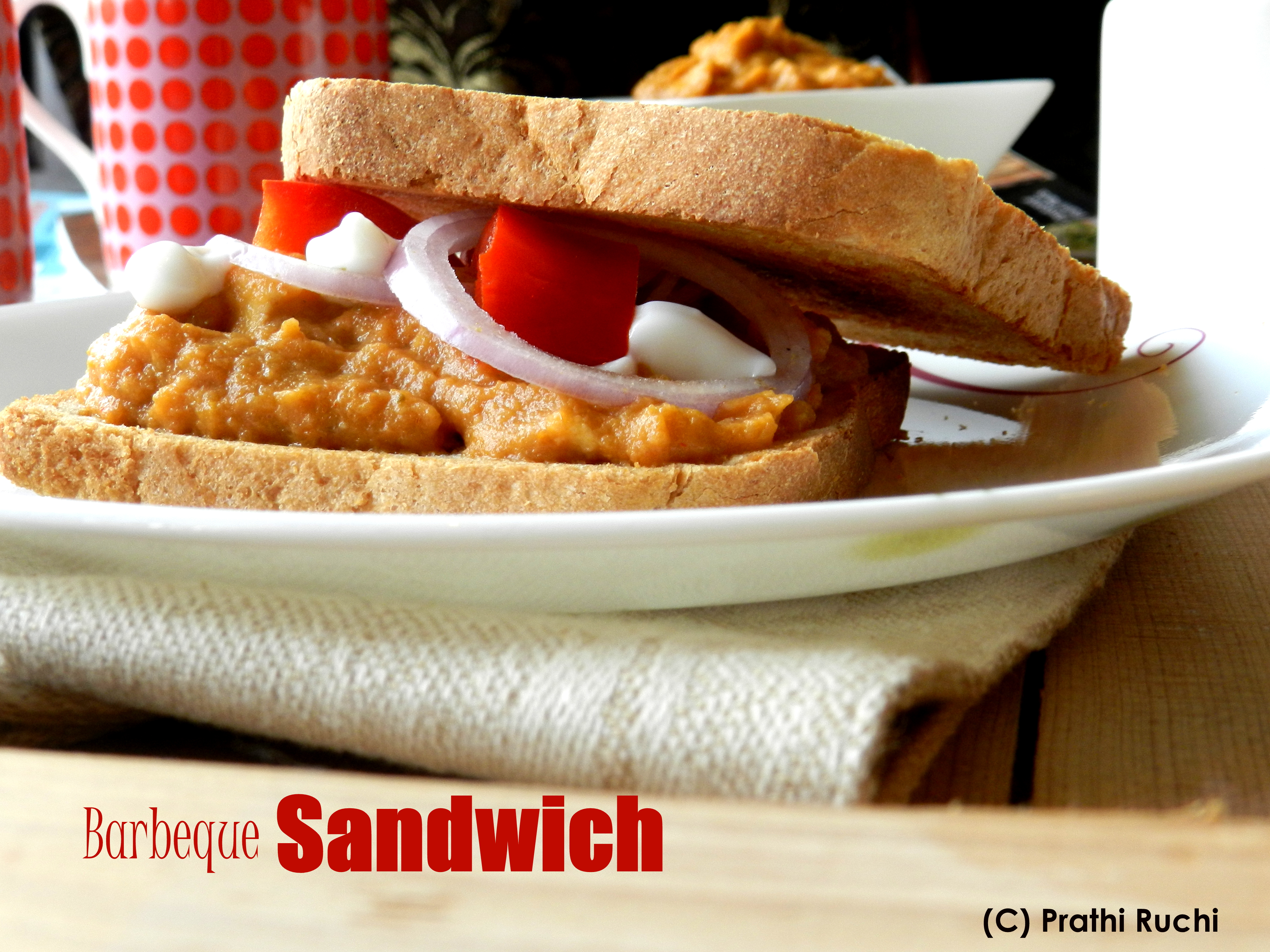 I have come across many cookbooks, got quite a few in my collection but the book 'Heaven on Tongue', the latest addition to my collection stands out for many reason. What do I like about the book? There are quite a few reason but let me highlight a few.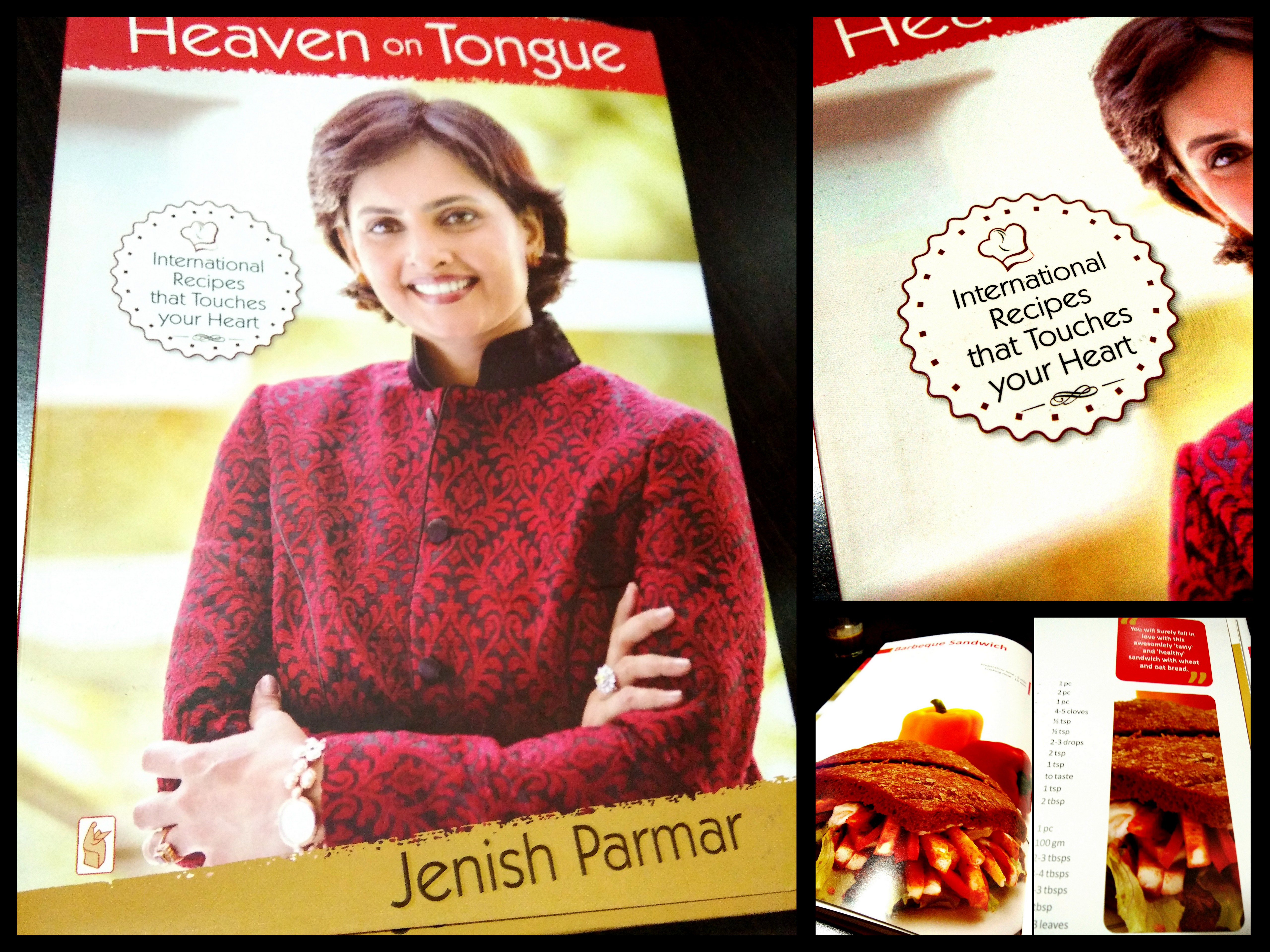 To begin, the author of the book is Jenish Parmar, a popular cookery expert of Colors Gujarati Rasoi Show. I have been watching this program for quite sometime (and learned a bit of Gujarati as well!) and Jenish has been one of my most favourite expert on the show. The unique qualities that stand out in Jenish are the innovative dishes she showcase each time, exotic recipes with simple ingredients, the presentation of the dish, the precise descriptions in addition to her ever smiling face! It is a treat to watch her on Rasoi show. And imagine my joy when I came across a cookbook published by her! I ordered it right away and is now on my bedside table, for some delicious night time reading!
The book published in October 2015 is as colourful and attractive as her dishes. The book comprises international dishes with categories that include Salads, Drinks, Sandwiches, Mexican, Italian, Lebanese, Thai & Chinese. Though the book comprises international dishes, they call for ingredients that are locally available. The recipe and the description are all in simple words. All recipes come with delicious images and a short description to entice your taste buds and get you cooking! Browsing through the book makes you want to try them all out that instant.
I could go on about all things good in this book. But then I choose to highlight a few in this post. I shall keep posting as and when I try more dishes from this book.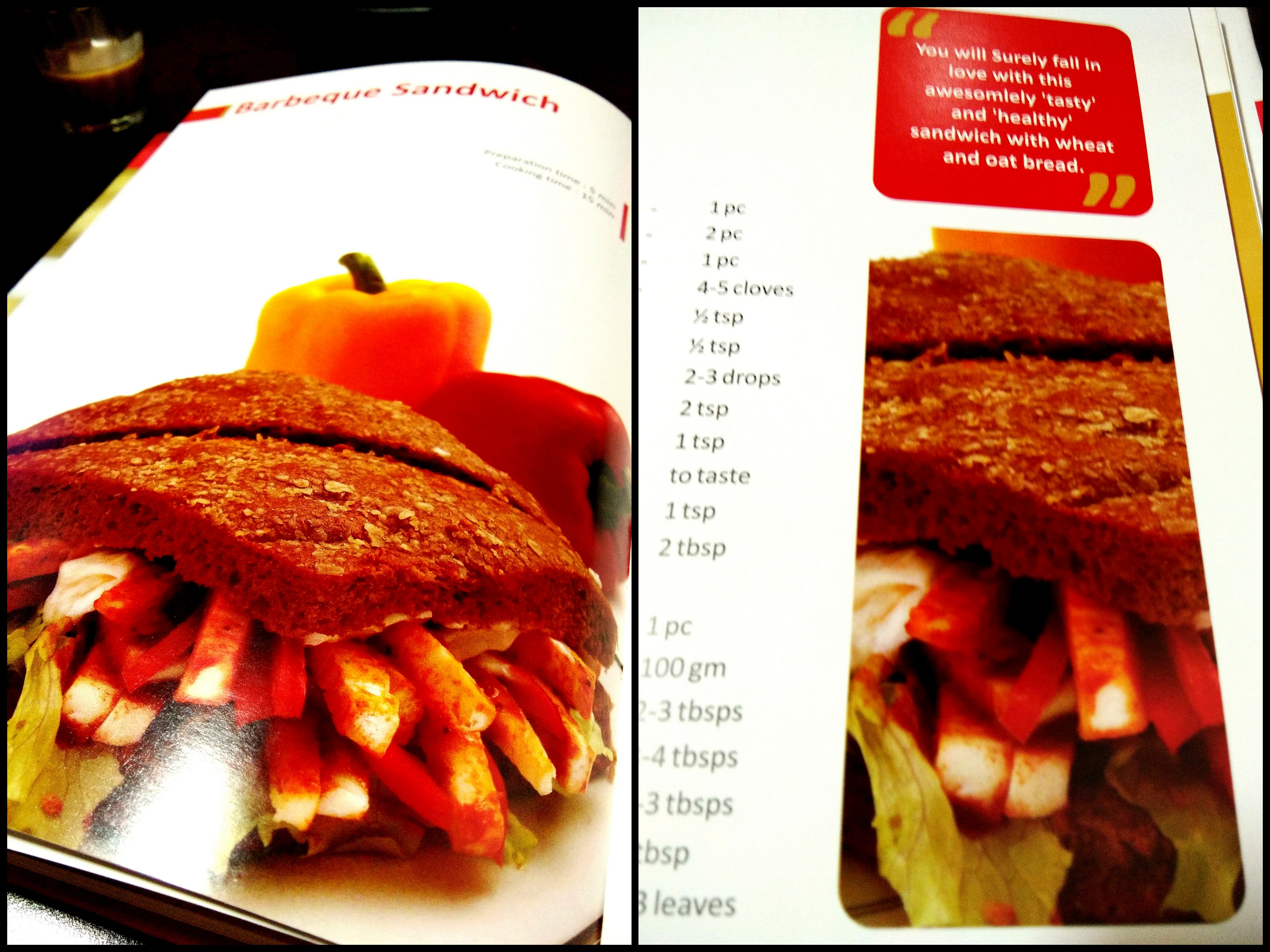 The first dish that caught my attention was 'Barbeque Sandwich'. I love anything with the word 'barbeque', anything that even barely resembles the smokiness in flavours that comes from cooking in a barbeque. The recipe however is cooked over a gas stove but the process lends it that hint of smokiness that made me fall in love with the recipe instantly. It calls for ingredients that one normally has stocked up in their pantry. It is an easy and quick recipe of course. It makes an ideal sandwich for breakfast, evenings or dinner. Suitable when you host a party as well. The heat from the chilli sauce, crunch from the onions & lettuce, paneer, homemade barbeque sauce, cheese are all ingredients that make this a perfect sandwich recipe!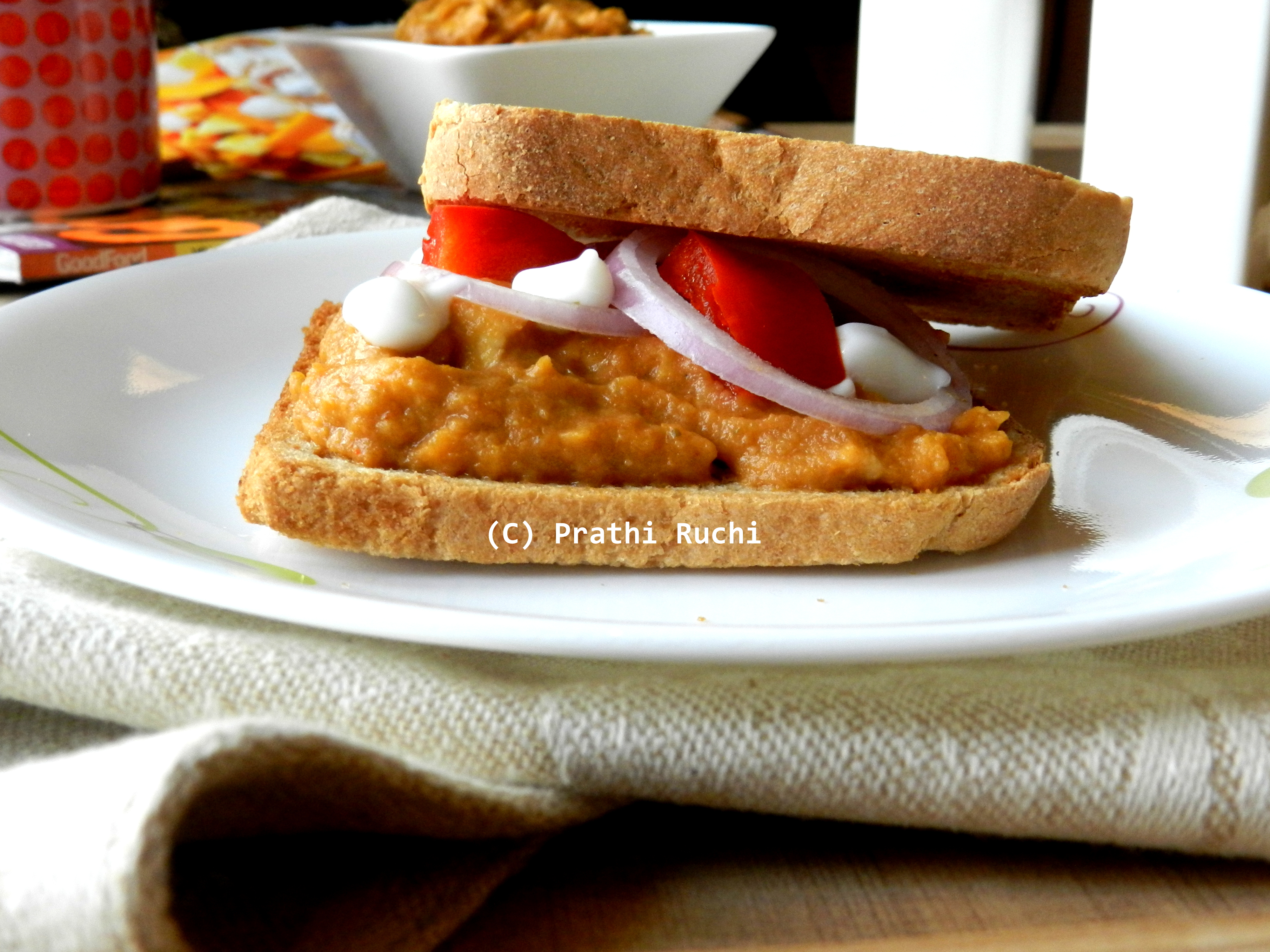 Barbeque Sandwich
For the Barbeque sauce
1 onion
2 to matoes
1 capsicum
5 cloves garlic
1/2 tsp vinegar
1/2 tsp soya sauce
2-3 drops capsico sauce
2 tsp mixed herbs
1 tsp sugar
salt to taste
1 tsp chilli powder
2 tbsp olive oil
For the Sandwich
whole wheat & oat bread
100 gms paneer (cut into long strips)
2-3 tbsp cheese spread
3-4 tbsp capsicum (cut into long strips)
1 tbsp onion (slice)
2-3 tbsp butter
2-3 lettuce
For the sauce, heat oil, add onion, tomato, capsicum and saute till dark brown. Add all the seasonings. Toss and remove from heat. Cool. Grind in mixer to get smooth sauce. May strain if required.
In a pan heat butter. Add capsicum and paneer and saute 1-2 mins. Add the barbeque sauce as required and toss to coat.
Apply butter on bread and heat on pan on both sides. Remove and spread cheese spread. Keep lettuce, paneer filling, onion rings. Cut into desired shape and serve.
Can replace capsico sauce with red chilli sauce.
Use any bread of your variety – regular slices, hot dog roll etc.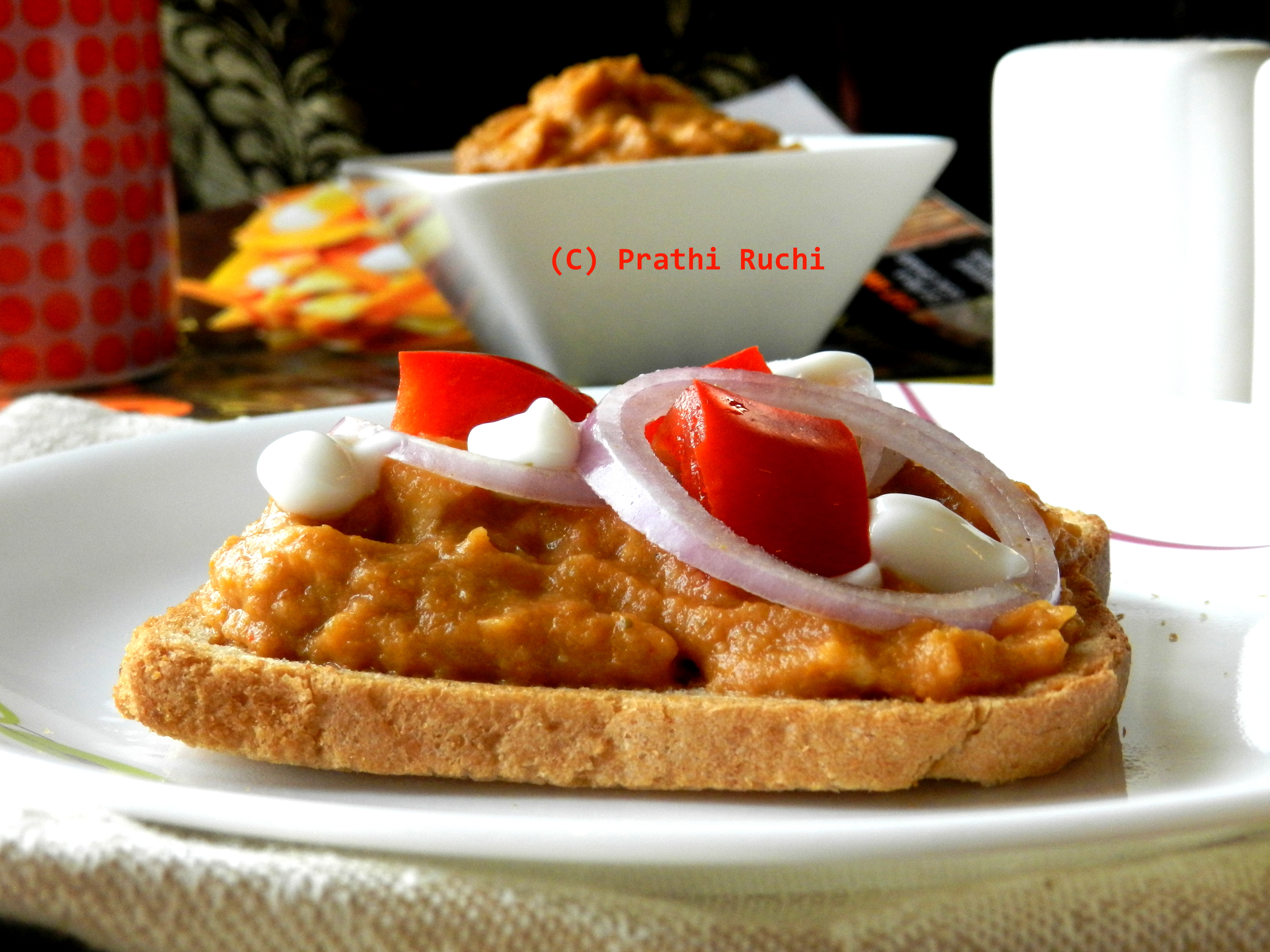 Next on my list to try from 'Heaven on Tongue' is Burnt Chana Salad!