How I miss interacting and sharing with viewers on Prathi Ruchi. The workload at office these days takes away the luxury of experimenting in the kitchen, taking elaborate shots, playing with lights & flavours and finally talking all about it here. I do indulge in occasional cooking but all that is restricted to rare weekends. But the photography and sharing part of it is given a miss. And so when I came across a post on Eggless Bread Baking workshop by Nandita, I knew I must NOT give this a miss!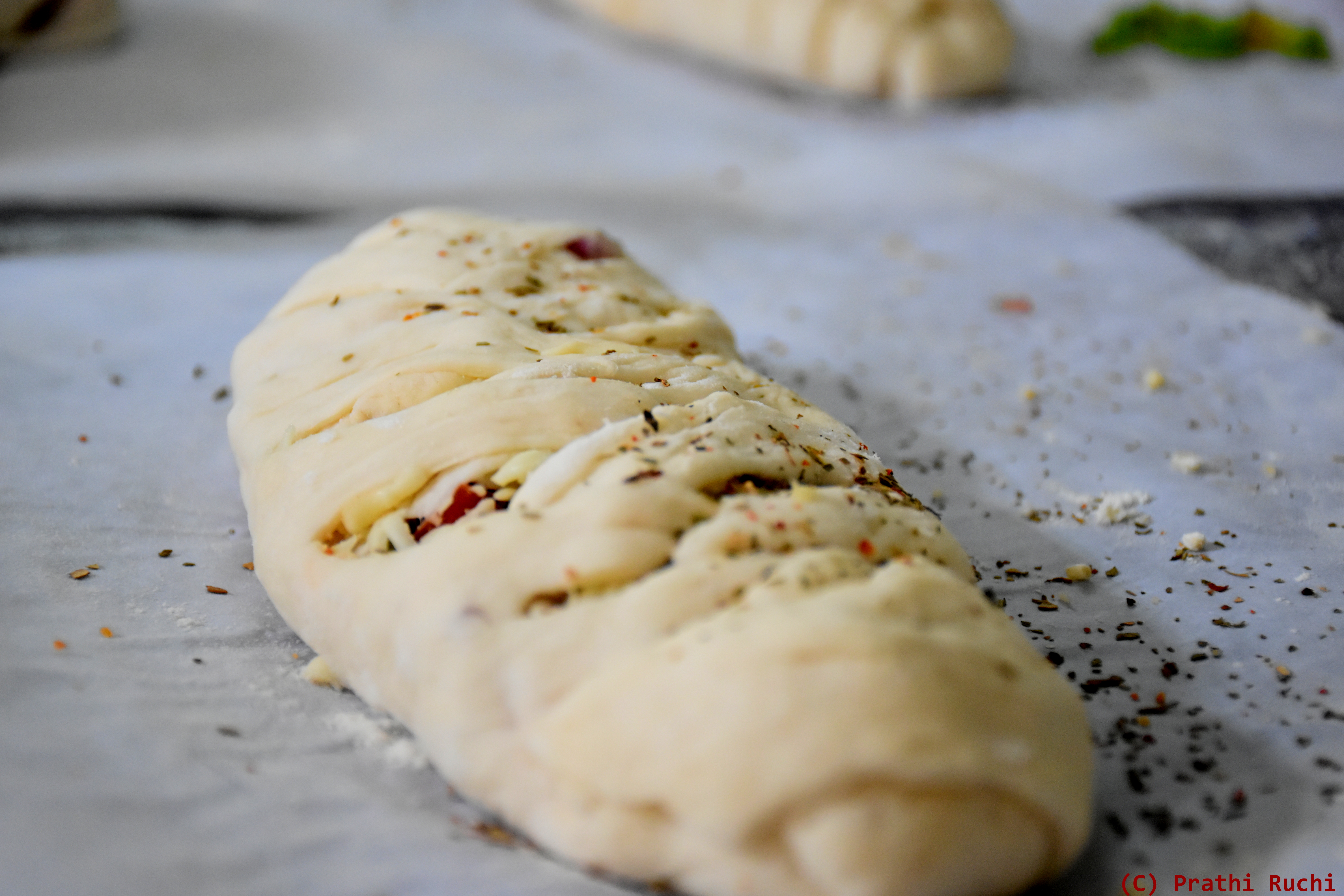 The workshop was held at Bloom & Grow, Koramangala on Saturday, 18th March 2017. The workshop commenced at 9:30 am and ended at 1:30pm. The host was Nandita of My Little Space. On entering, her warm smile & greetings was enough to anticipate on the mood of that morning! A long table was neatly laid out for 8 participants – Mixing bowls, spatula, whisk, recipe booklet, aprons et all.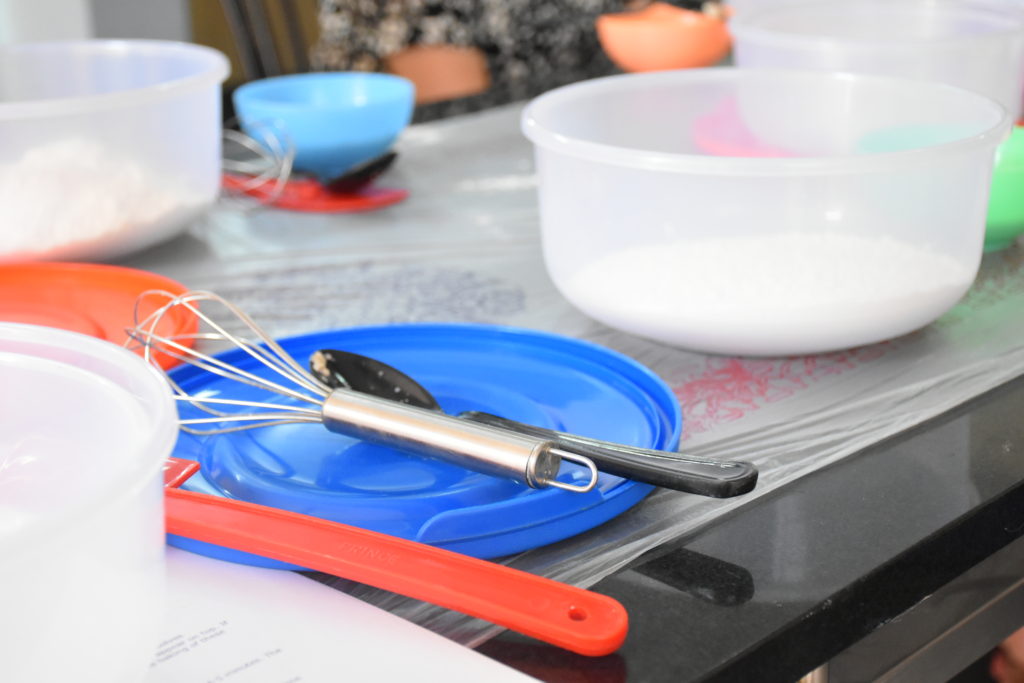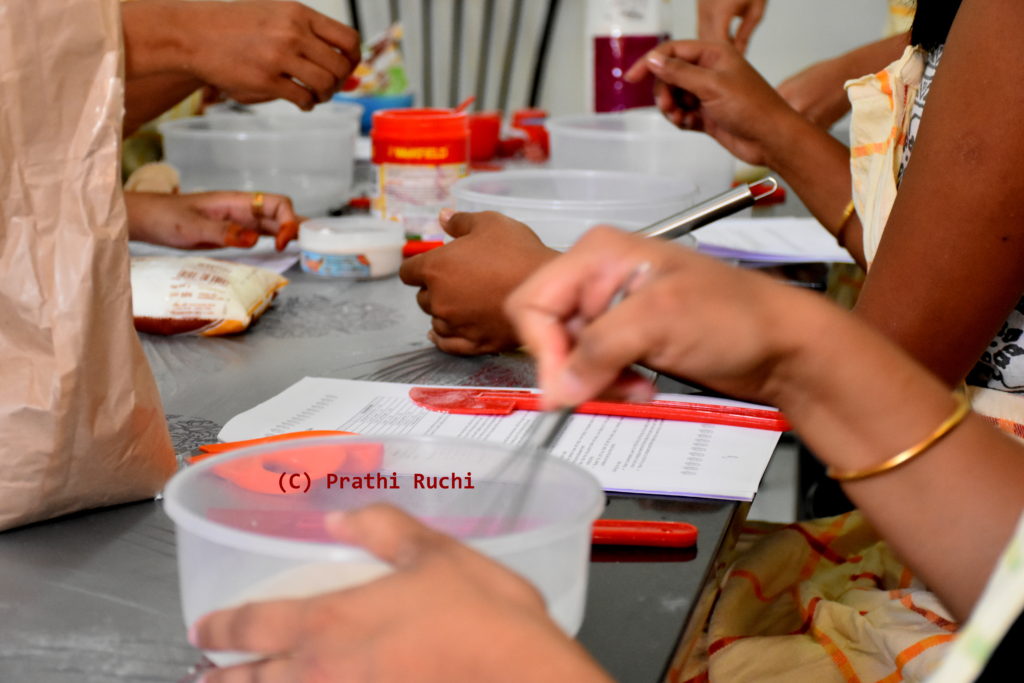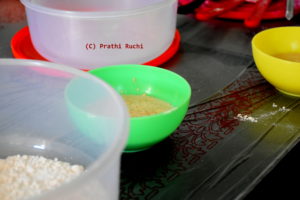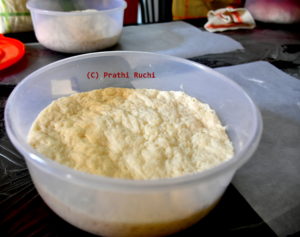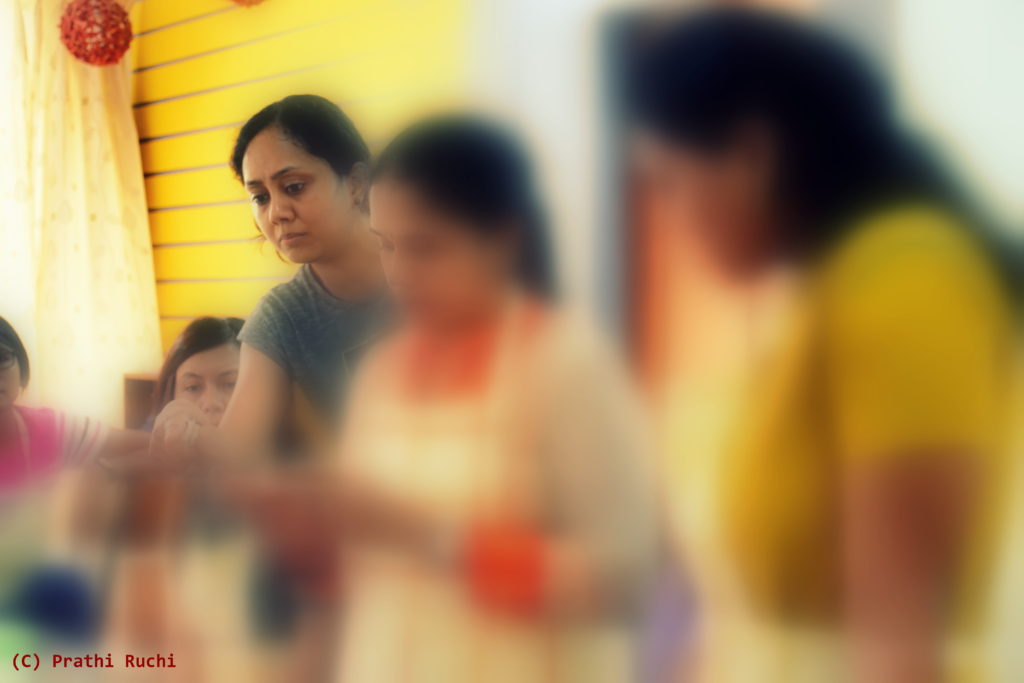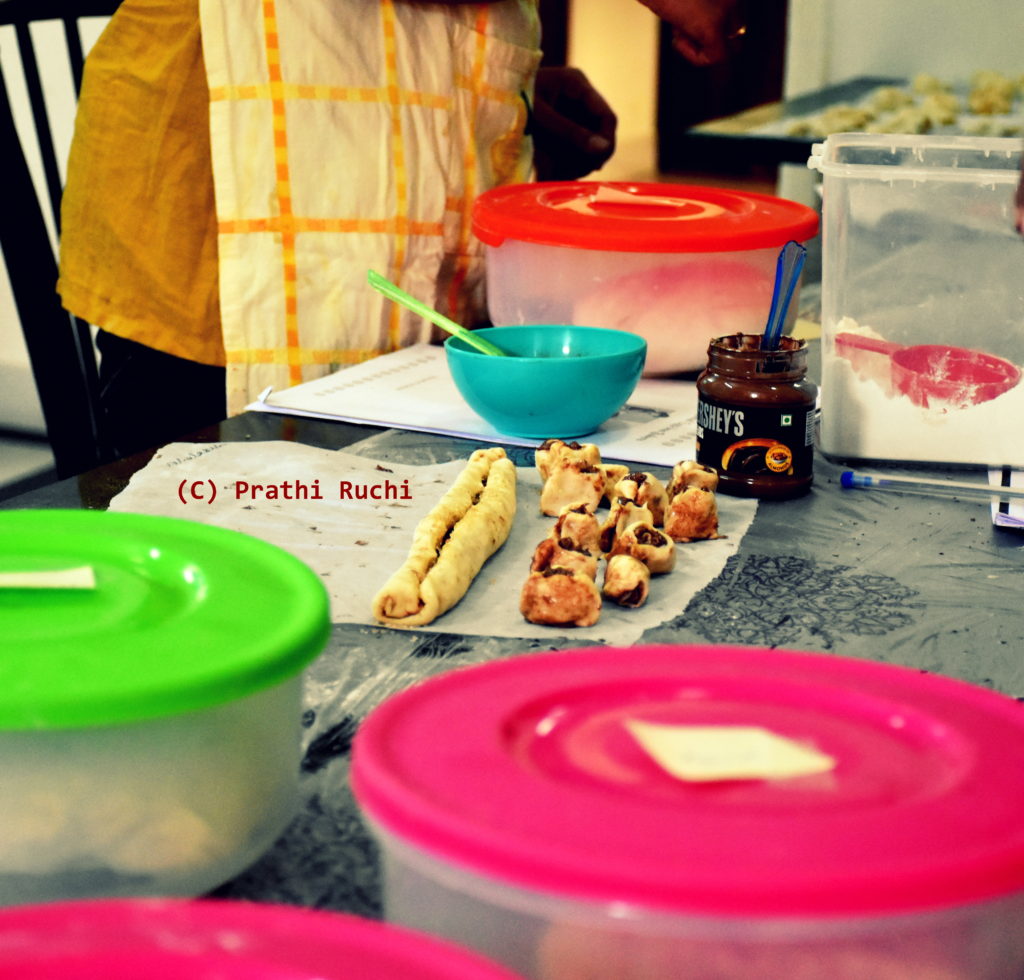 The workshop began with the participants introducing themselves. And then the process began! We started with proofing the yeast, followed by kneading the dough. Once the dough was ready, it was kept aside for proofing. And as the dough was rising we mixed and baked an egg-less Marble Cake. The aroma of freshly baked cake was so enticing! As it cooled, it was time to prepare for baking of breads. The plan for the day was to bake 3 varieties of breads from one basic dough.
The first one was the Cinnamon Hearts. The dough was rolled out and as we sprinkled the sugar and cinnamon, the room literally smelt of Christmas! And then some chocolate spread was passed around too for those who preferred chocolate flavoured bread. Now you can imagine the flavours that filled the room – chocolate, spice & all things nice!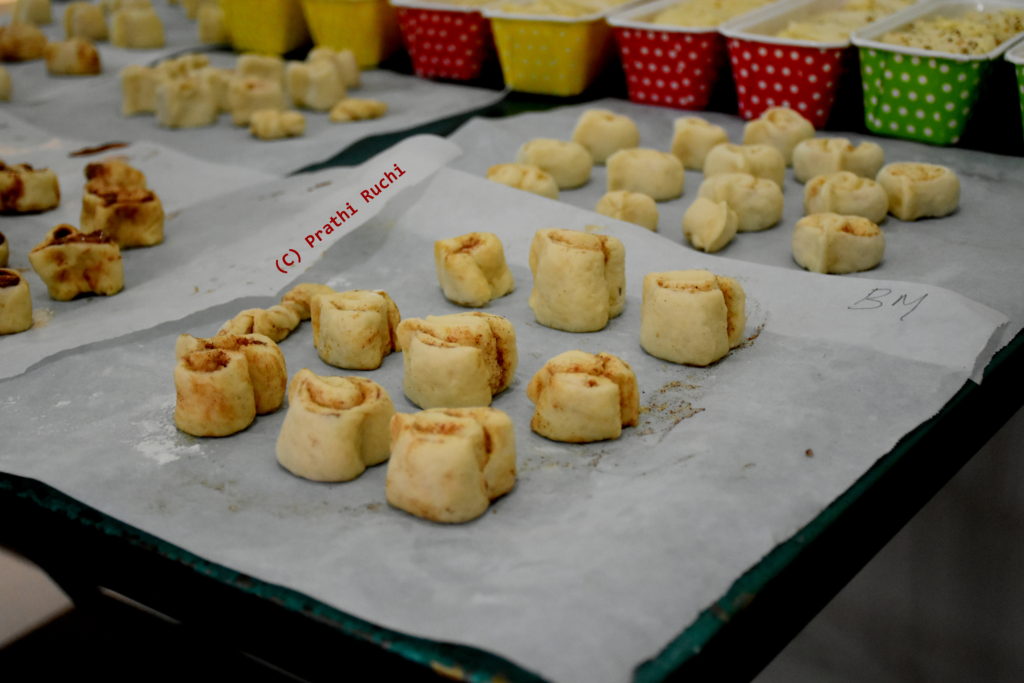 Next on the list was Herb & Cheese Pull Apart Bread. We all enjoyed spreading the garlic butter and cheese (ahem-generously!). I think when it comes to cheese & butter, we are kids again! The pretty layered rolls were ready to be proofed once again.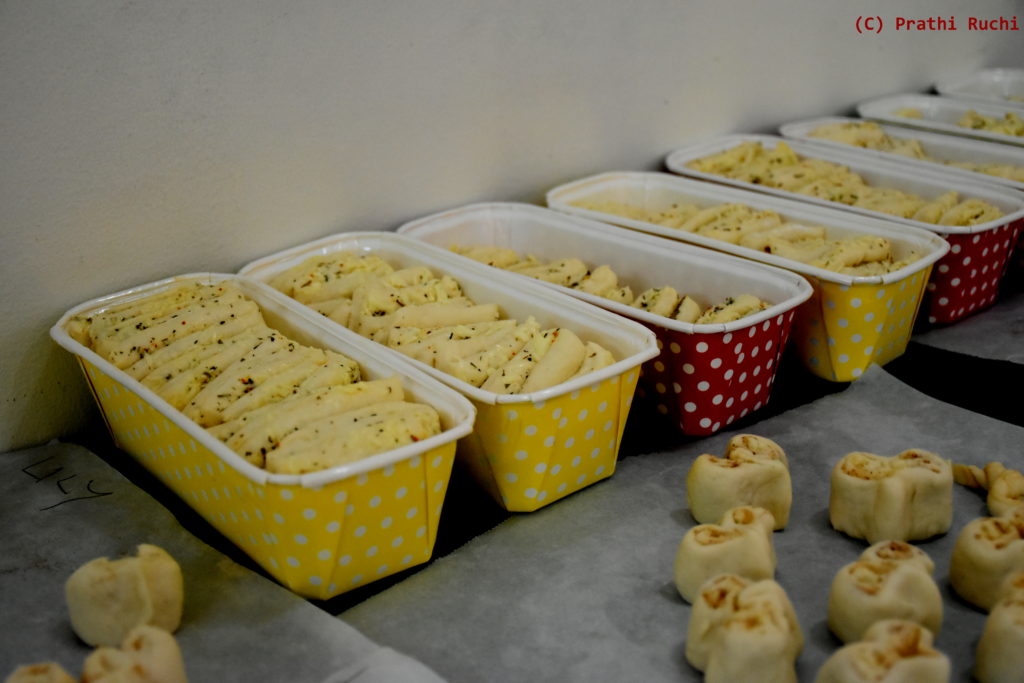 The final bread for the day was Braided Pizza Bread. This is a fun & interesting way to relish all the flavours of pizza in a filled & braided form. Varieties of vegetables were passed around so that participants could play around and create their own combinations of filling.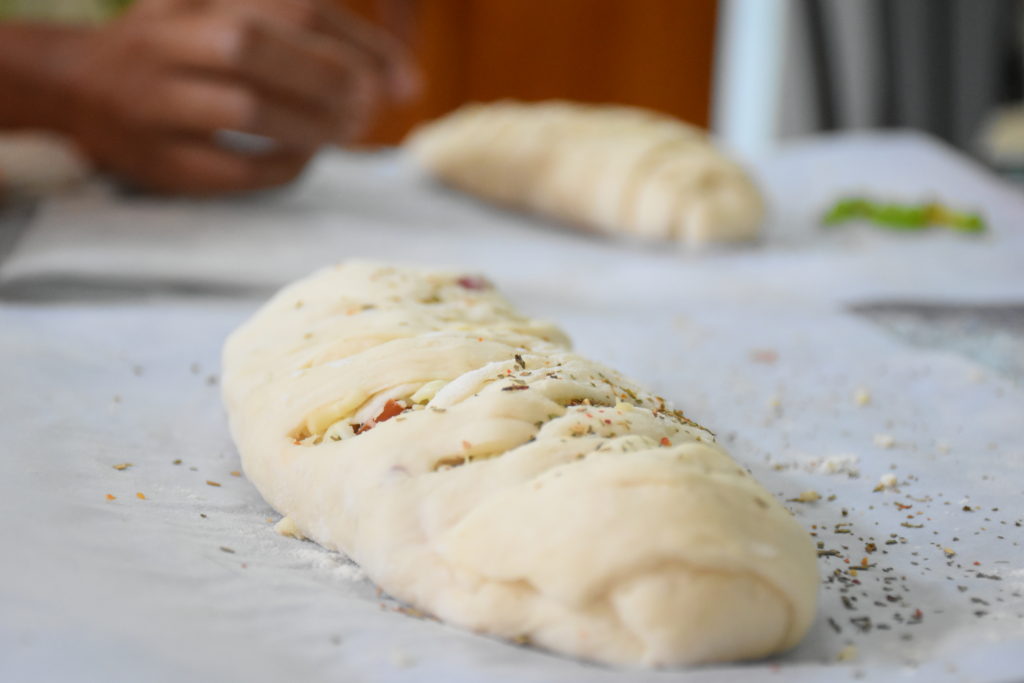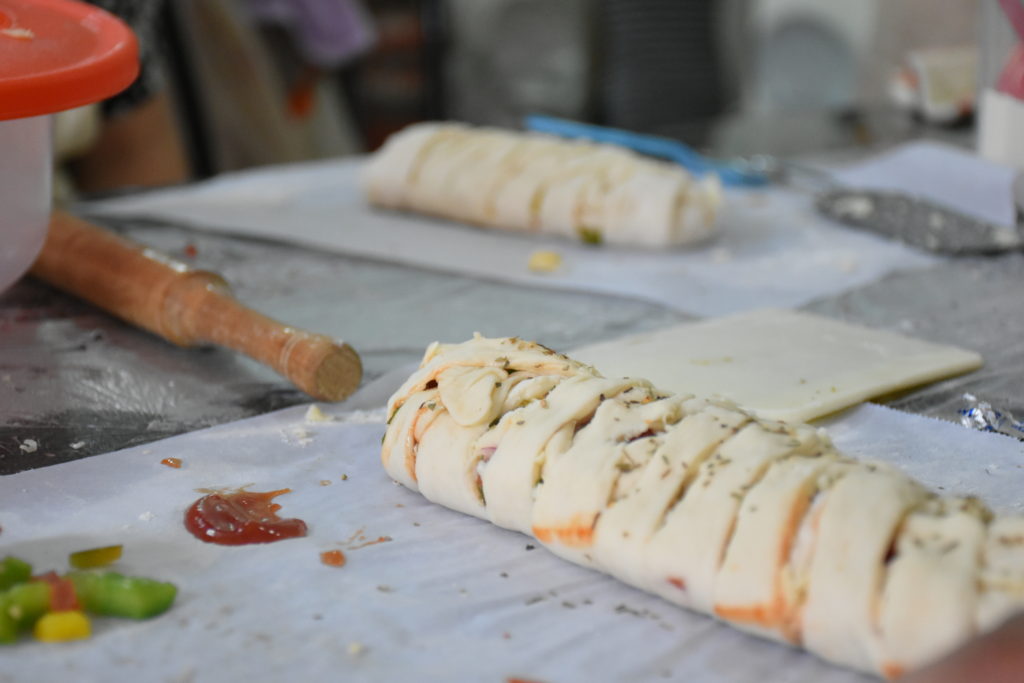 It was time to bake the breads! This was also a time to discuss on variations or any baking queries and of course interact with fellow participants.
Once done, out came beautiful, aromatic & flavourful breads! They looked and smelt so good that I was tempted to devour them all right away! In a way the workshop also tested my patience – from waiting for the dough to be proofed to waiting till I was home to relish them!
All baked & ready to be relished!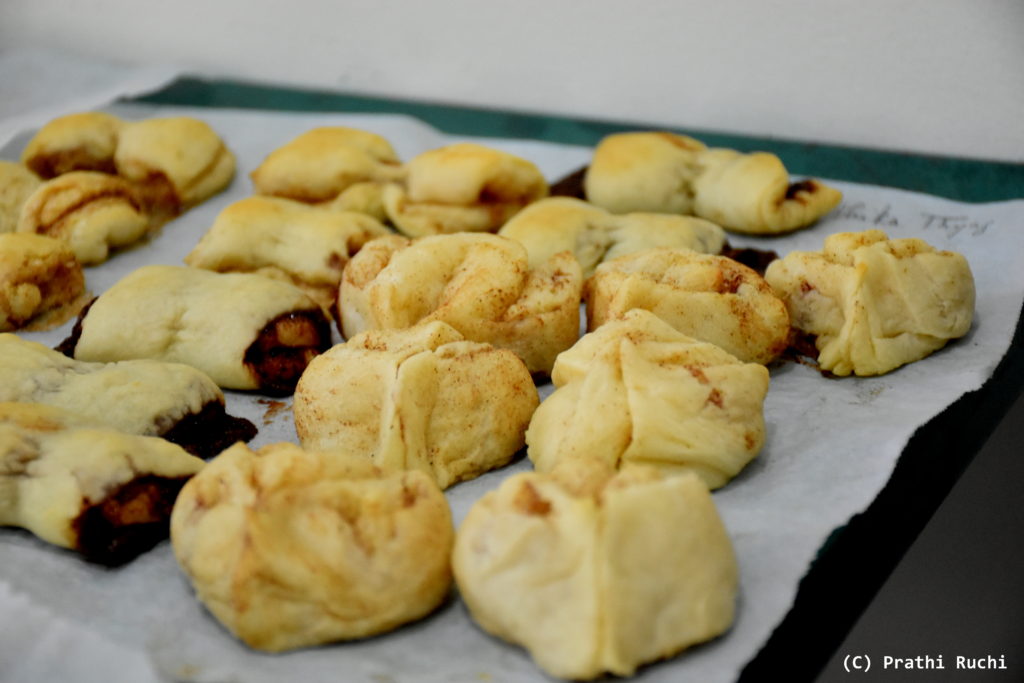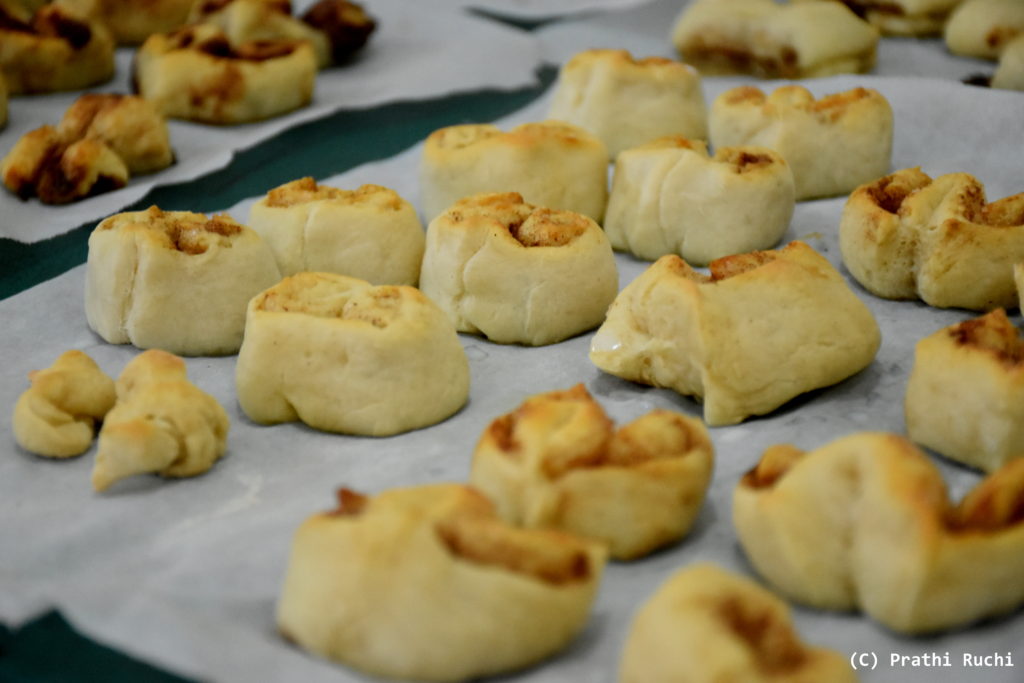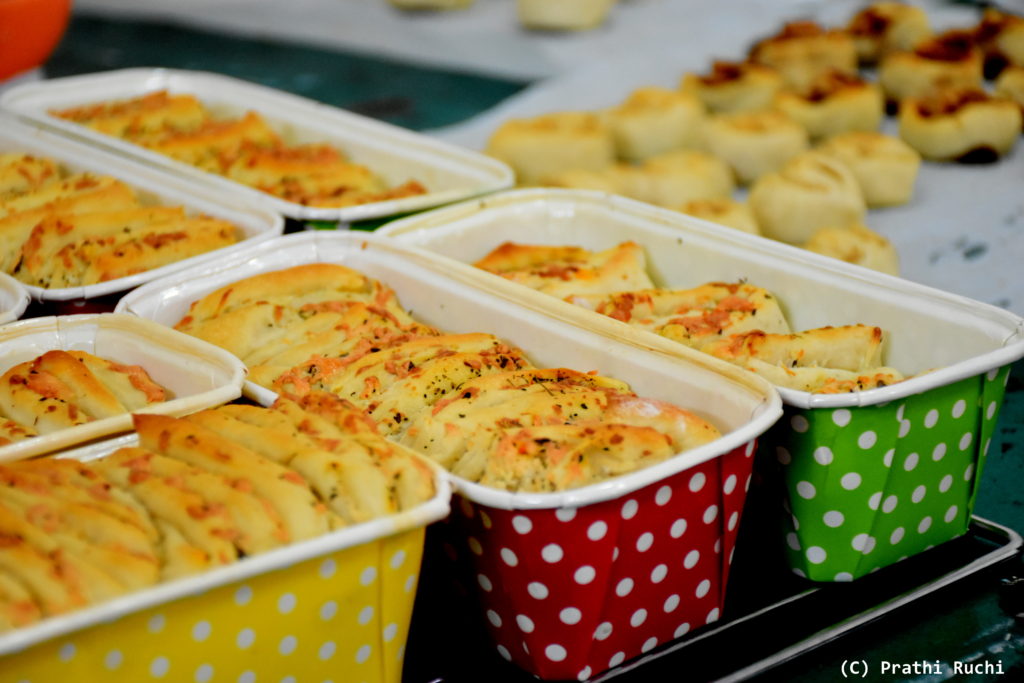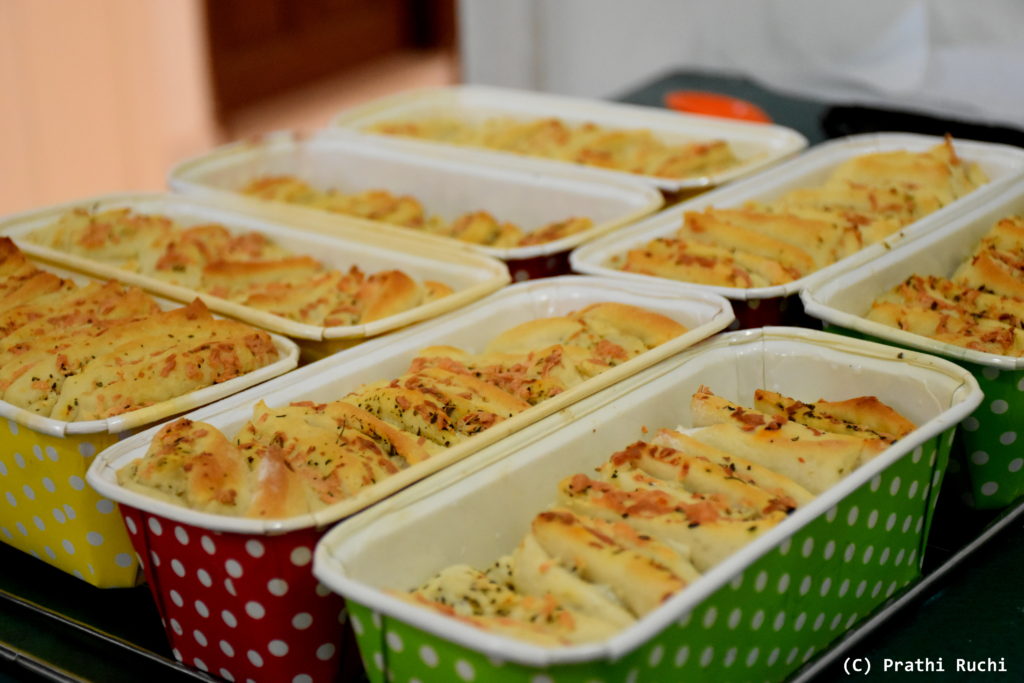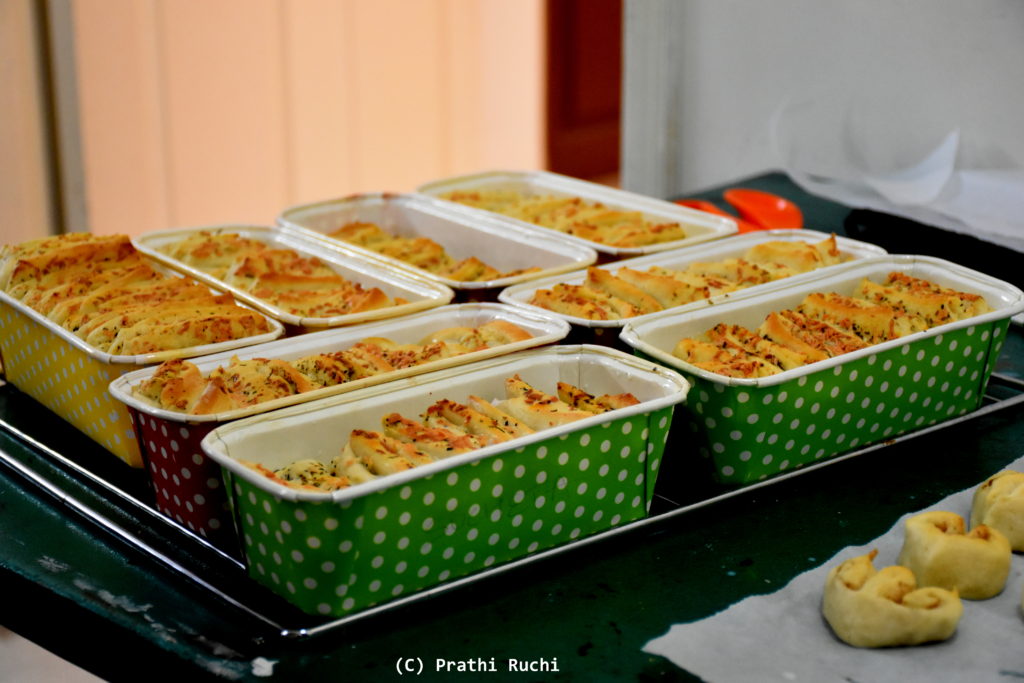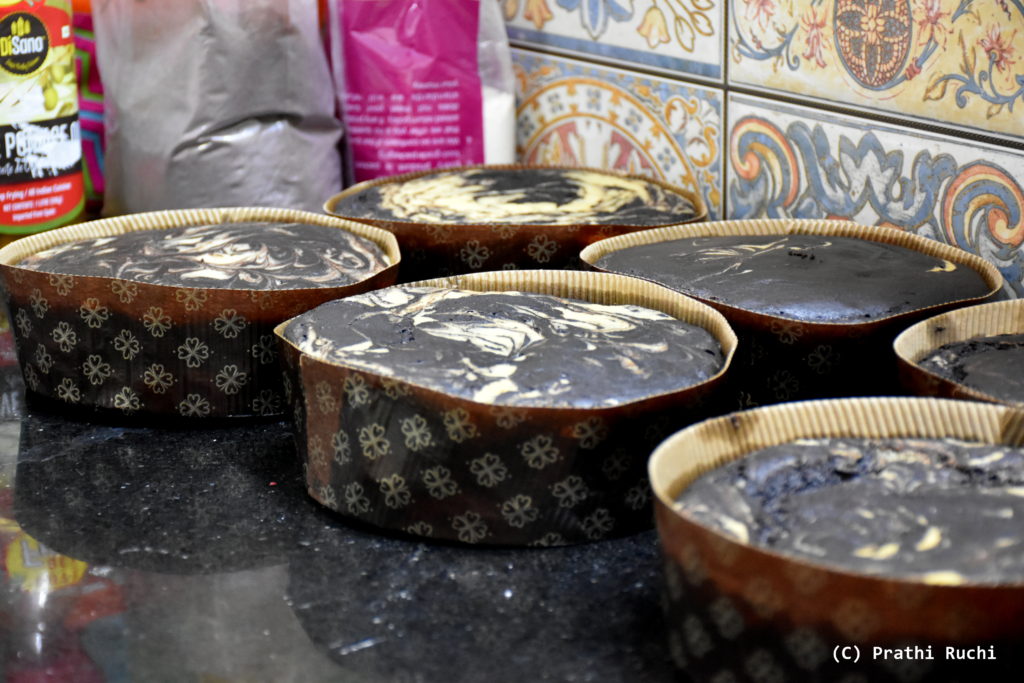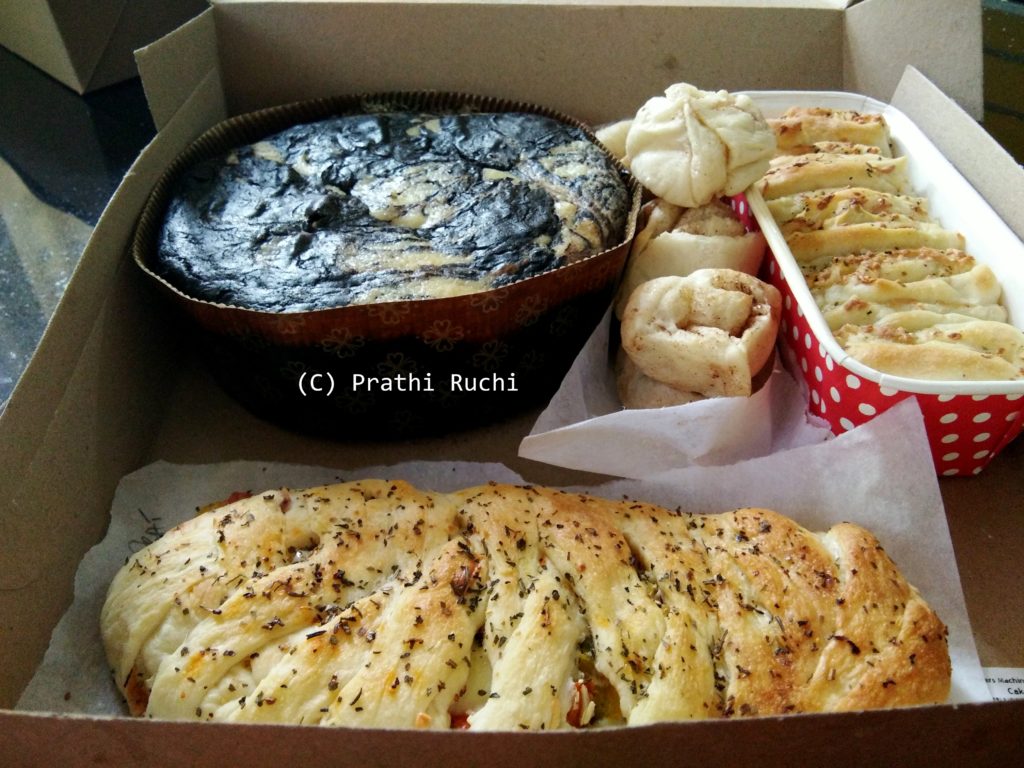 After attending the workshop I am now more confident of baking with yeast. Nandita`s explanations were very clear. She uses simple ingredients to create magic! Her alluring smile will put all at ease. She was extremely helpful in clearing all our doubts. What also helped was she was constantly moving around among the participants to guide at every stage. Having a hands down experience at the workshop gave a thorough insight into the subject.
Thank you Carol, Bloom & Grow for this opportunity. I am definitely looking forward for more workshops at Bloom & Grow and by Nandita in particular!